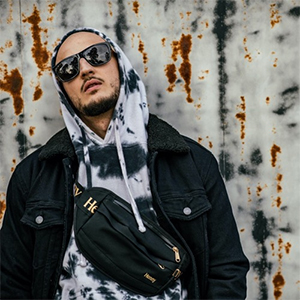 Thu, March 23, 2023, 9:00 pm
MiMOSA:
MiM0SA is an Armenian-American electronic music producer and DJ, known for his genre-blending style that incorporates his own vocals, elements of left field bass music, hip-hop, and live remixing.
In 2014 he collaborated with the legend Bun B on his Future Trill, Volume II album. In 2015 he collaborated with Too Short and the Rej3ctz on his album Delusions of Grandeur on their title track "On Fleek" which received widespread critical acclaim for its futuristic yet old school west coast sound. In the same year he also worked on Prodigy of MOBB DEEP's last album Hegelian Dialectic on a track called Mic-Rocosm.
MiM0SA's early rise to stardom granted him the privilege to tour all through the US, Canada, Australia and the EU. Playing major festivals such as Coachella, Bonaroo, Tomorrowland, Shambala, Electric Forest and many more, Mimosa soon established himself as one of the most exciting new talents in electronic music and earned him a reputation as a versatile and boundary-pushing producer.
Today, MiM0SA is considered one of the leading lights of the underground electronic music scene, with a devoted fanbase and a reputation as a highly influential artist. He continues to push the boundaries of electronic music and inspire new generations of producers and fans with his innovative and genre-defying sound.
BEAT KITTY:
Grounding-breaking rhythms and booty shaking beats make up the dynamic producer/dj known as Beat Kitty. Her sets are ecstatic and dance-floors infectious; blending hip hop, trap, and other low-end bass-driven styles for the enjoyment of all. Her eclectic selection of soundscapes are lively; creatively blending sass and downright dirty bass to get your body moving. She breaks the mold and forms her unique and innovative sounds through her classical background-blended with a hybrid of global and timeless sounds and deep cuts of heavier, grimier bass-lines.
Beat Kitty has recently shared her soundscapes internationally, playing festivals such as Lightning in a Bottle, Raindance, Bamboo Bass, Emissions, EDC, Camp Bisco and Mysteryland to venues such as Meow Wolf, The Black Box, The Midway, The Great Northern, Flash, Otherworld and the Knitting Factory. She has played support for Baauer, ivy Lab, Antennae, Maddy O'Neil, Glitch Mob, iLL Gates, iLL-Esha and Soohan and has received press in DJ Mag, RunTheTrap, WookofWallstreet, and more.
+ iNi and CANNABASS
DOORS: 9PM
AGES: 21+
NO REFUNDS | ALL SALES FINAL
View on Website Add to Google Calendar
HopMonk Tavern – Sebastopol
230 Petaluma Ave - Sebastopol

Price: $18.00