Wed, September 8, 2021, 4:30 pm - 7:30 pm
Free Peacetown concerts return, this year at the Barlow on three stages: the Main Stage at the Event Center behind Blue Ridge Kitchen; one at The Crooked Goat; and a third outside Woodfour and Fern Bar. You 'll also find music performances downtown at People's Music, Main Stage Theater, and Hopmonk Tavern.
Woodfour/Fernbar lineup:
7/7 The Musers
7/14 Mundo Rio
7/21 Harman & Harman
7/28 Gabe Wheaton
8/4 Alexander's Band
8/11 Batacha
8/18 Hoytus Rolen
8/25 Solid Air
9/1 Bluebyrds
9/8 Calico Bridge
There's also art browsing, nature walks, Family Village at McKinley Street Community Stage, and lots of great food and drink at area restaurants.
Here's the complete line-up: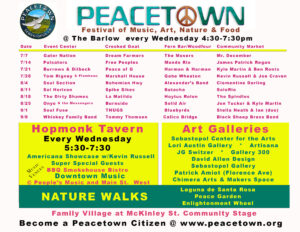 View on Website Add to Google Calendar
Woodfour Brewing Company
6780 Depot St - Sebastopol