Film News
Beyond Netflix:
Local movie venues are offering online movies and more!
Enjoy great movies and help support our local movie theaters and organizations so they'll still be there when this is over!
Drive In Entertainment at the Somo Village In Rohnert Park:
Every Friday in November.
Friday, Nov. 6: Jumanji Next Level
Friday, Nov. 13: Toy Story 4
Friday, Nov. 20: Guardians of the Galaxy Vol. 2
Friday, Nov. 27: National Lampoon's Christmas Vacation
Find details on our calendar!
Starting Friday, Oct. 16
on Sebastiani At Home! Explore the lives of nine women from around the world who share a passion for the ocean.
OUTwatch 2020 – Wine Country's LGBTQI Film Festival
is Online and Virtual, watch anytime Friday, Oct. 16th through Sunday, Oct. 25th.
We've named the festival: Looking Back; Moving Forward to honor those LGBTQI individuals who fought for the civil rights we presently enjoy, while recognizing now we must struggle to keep those rights and fight to expand them to our entire community. This year's virtual festival showcases four enlightening, empowering and entertaining documentaries. Tickets are $12 each.
JCC Sonoma County Presents
Sonoma County Virtual Jewish Film Festival
October 13 – November 16
Ten new international films • Four live talks with directors • Five weeks to view! Flexible access on its dedicated film festival platform. Season passes are available.
Enjoy The Sebastopol Documentary Film Festival from home!
The Sebastopol Documentary Film Festival presents Documentaries Make House Calls, streaming festival films online.

Sebastopol Center for the Arts proudly presents Documentaries Make House Calls from Sebastopol Documentary Film Festival. Docs Make House Calls will be streaming films at intervals through Nov. 29, 2020.
Tickets for this exceptional program will cost $12, entitling our audience to view content several times over the 10-day period of the program's run. Discount DMHC passes are also available. We encourage donations beyond your ticket cost. Consider matching what you might have spent on that medium popcorn plus Milk Duds or Raisinets. Online delivery of films is not free for us.
Sonoma Film Institute's Fall Film Season
will be offered online
Instead of Netflix, stream movies you won't find anywhere else and support this valuable local resource, now in its 47th consecutive year of operation. These screenings range from silent film to the avant-garde, from contemporary American fare to films from the Third World.
Rialto Virtual Cinema
Watch first run movies from the comfort of your own home and support Rialto Cinemas in Sebastopol! New films are released for streaming every Friday. A portion of each rental goes towards their operation costs until they can reopen!
PLUS, Popcorn Pick-Up every Saturday 2:30-5:30pm! Enjoy the Rialto's delicious movie theatre popcorn, candy, pizza, sandwiches, nachos and tater tots, and support Rialto Cinemas! Order online and choose your pick-up time or walk-up between 4:30-7:30pm.
Sebastiani Theatre in Sonoma brings movies to your home
Support your local movie theater by renting movies now in theaters, local independent films, and free original programming.
You can even drop by the Sebastiani Theater in Sonoma on Fridays to pick up movie popcorn and treats to enjoy with your at-home movie-watching!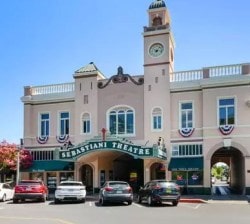 Alexander Valley Film Society Shelter In Place Series
Four separate tracks to help you #StayConnected through film!
Monday Arthouse Series: New titles to rent for streaming, and your ticket purchase supports AVFS!
Wednesday #Filmfoodwine Events: Support local restaurants, wineries and distillers AND join your pals – near and far – for a watch party!
Focus On… Live! Sundays at 2PM! Join us for conversations with filmmakers, industry experts, and friends of AVFS on Facebook, YouTube, or Twitch!
Education: Classes for students of all ages!