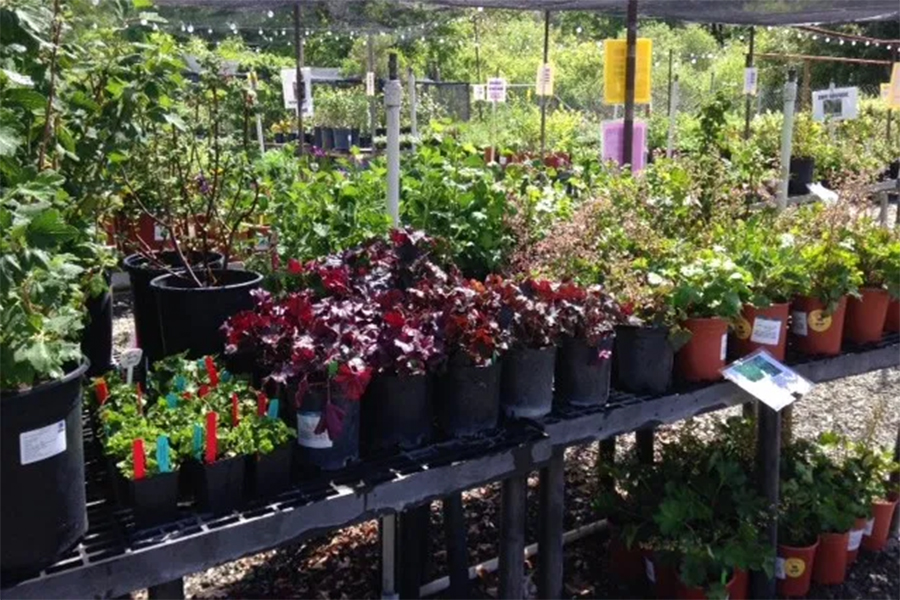 Plant Sales in Sonoma County 2022
Spring has sprung and home gardeners can find plant sales of all kinds around Sonoma County!
Buy locally-grown veggie and flower starts and more at sales around Sonoma County and support local organizations!
.
Saturdays, March 12, April 2, April 23 ,May 14, June 4, June 25 from 9am – 2pm
Willowside School Nursery Plant Sales
5299 Hall Rd. & Willowside Rd, Santa Rosa
We have drought tolerant perennials, many California natives, multitude of succulents, grasses, salvias, abutilons & many beautiful plants to invite beneficial insects, butterflies and hummingbirds into your garden, plus 40 varieties of Specialty Japanese Maples.

Saturday, April 2 from 9am-12pm
Sonoma Ecology Center and Sonoma Garden Park's Spring Native Plant Sale
19996 7th Street East, Sonoma
This sale will offer hundreds of California native plants that are well adapted to our summer-dry climate and that will brighten up the garden, provide habitat for wildlife, and support important pollinators such as the monarch butterfly. The selection will feature plants for both sun and shade, and knowledgeable staff and volunteers will assist with plant selection.

Saturday, April 9 from 10am-noon (9am for club members)
Valley of the Moon Garden Club Heirloom Tomatoes & More
19626 Eighth Street East, Sonoma.
We have started more than twenty varieties of heirloom and specialty tomatoes, mostly from saved seeds. Also peppers, eggplants, zinnias, and sunflowers. All in 4 inch pots.

Saturday, April 9 from 9am-3pm
Graton Community Club
8995 Graton Rd, Graton
Tomato, vegetables, plants, herbs, flowering plants, and more.

Saturday, Apr.16, 9am-2pm
Petaluma Garden Club Plant Sale
A great selection of organic vegetables, perennials, houseplants, succulents; a variety of pots, garden tools & more.
1939 Castle Dr, Petaluma.

Saturday, April 23 & Sunday, Apr. 24
Petaluma Bounty Plant Sale
Saturday, 2-4pm for CalFresh (EBT), seniors 65+, and immunocompromised customers
Sunday, April 24, 9am-3pm
All customers must sign up for a 30-minute time slot to ensure a safe and comfortable shopping experience. Veggie seedlings ready for planting will start at $3.00.


Sat, April 23, 9:30 am – 12:30 pm
Santa Rosa Garden Club Plant Sale
Luther Burbank Art and Garden Center, 2050 Yulupa Avenue – Santa Rosa
Garden Plants & Roses!

Saturday, April 23 from 9 am-3 pm.
Harvest for the Hungry Garden
1717 Yulupa Ave, Santa Rosa
By reservation only (call 707-978-3324)
Organically grown heirloom veggies & habitat plants.

Friday, April 29 from 1pm to 4pm
Saturday, April 30 from 10am to 2 pm
Friday, May 6 from 1pm to 4pm
SRJC Shone Farm Plant Sales
7450 Steve Olson Lane, Forestville
Get your organic plant starts from SRJC Shone Farm! We'll have tomatoes, peppers, zucchini, cucumbers, eggplant, lettuce, greens, and flowers.

Saturday, April 30 from 9am to 12:30pm
Saturday, May 7 from 9am to 12:30pm
Healdsburg Garden Club Spring Plant Sales
345 Healdsburg Ave, Healdsburg
We will have marvelous containers and baskets filled with low growing filler plants, succulents, annuals, perennials, variegated Ivy, and house plants. All plants have been cultivated or propagated from members' gardens. A wide variety of interesting, well-priced and well-maintained plants will be available. Heirloom tomatoes will be featured.

Saturdays & Sundays, April through October from 10am-5pm and weekdays by appointment for purchases over $200
Occidental Arts & Ecology Center Mother Garden Nursery
15290 Coleman Valley Road, Occidental
Find unique and hard-to-find perennials for your multifunction landscapes – culinary and medicinal herbs, fiber and dye plants, annual vegetables, perennial food crops from around the world.

Local Gardening Resources
UC Master Gardener Program of Sonoma County
Online classes and information on gardening.
iGROW Sonoma
Gardening information, planting guides, and more. Presented by Wendy Krupnick and Sarah McCamant.
Don't miss a thing! Sign up for our weekly update!