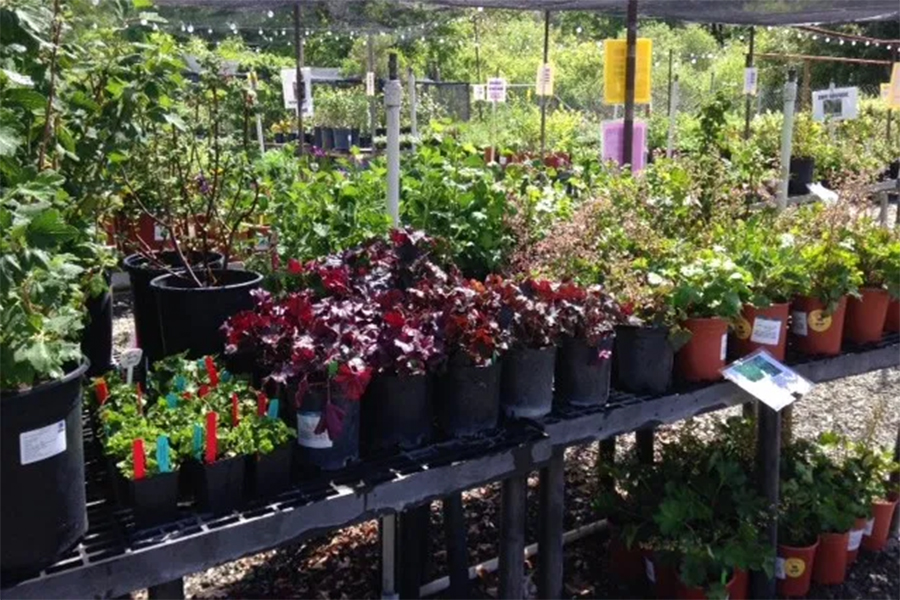 Plant Sales in Sonoma County 2021
Spring has sprung and local gardeners can find plant sales of all kinds around Sonoma County!
Click to visit the websites and read about Covid protocols in place before you go.
.
Fri., Apr. 16, 1 – 4pm & Sat. Apr. 17, 10am – 2pm
Fridays, Apr. 23,  Apr. 30,  and May 7,  1 – 4pm
SRJC Shone Farm Plant Sale
7450 Steve Olson Lane, Forestville
Veggies, herbs, flowers. Pick up curbside. Order online before the Thursday prior to pick up.
Sat. April 17, 10 am–1 pm
Valley of the Moon Garden Club Heirloom Tomatoes & More
19626 Eighth Street East, Sonoma.
April 17-Oct. 31, Saturday & Sunday
Occidental Arts & Ecology Center Mother Garden Nursery
10am-5pm and weekdays by appointment for purchases over $200
Find unique and hard-to-find perennials for your multifunction landscapes – culinary and medicinal herbs, fiber and dye plants, annual vegetables, perennial food crops from around the world.
April 24-25, 10am – 4pm
Food For Thought's Wellness Month Plant Sale
6550 Railroad Ave. in Forestville
Starts of diverse heirloom vegetable varieties, native plants and more.
All proceeds benefit Food For Thought, serving thousands of Sonoma County residents living with serious illnesses with healthy food.
April 24, May 15, June 5, June 26
Willowside School Nursery – Plant Sales
Saturdays from 9am – 2pm
By appointment: mfiddler@ogusd.org OR drop-in if space available.
5299 Hall Rd. & Willowside Rd.
Thousands of plants: a variety of low water & drought tolerant perennials,
CA natives, a multitude of succulents, grasses, salvias and more,, plus 40 varieties of Specialty Japanese Maples, 3-6' tall at $30 to $70.
Call: Jan Lochner – (707) 569 – 4724
Saturday, April 24
Harvest for the Hungry Garden
8 am – 5 pm. By Appointment Only. You can sign up for an appointment on Saturday, April 10, starting at 9 am.
Organically grown heirloom veggies & habitat plants.
1717 Yulupa Ave., Santa Rosa 707-978-3324.
Saturday, Apr 24, 9am–2pm
Graton Community Club
Tomato, vegetables, plants, herbs, flowering plants, and more.
8995 Graton Rd, Graton.
Sunday, April 25 by appointment
Petaluma Bounty 11th Annual Spring Plant Sale
Saturday, April 24th is reserved for those that are 65+, immunocompromised, or paying with EBT (CalFresh), by appointment.
Bounty Community Farm, 55 Shasta Ave, Petaluma.
Affordably priced vegetables, herbs and flowers. Get advice from local gardening experts. Proceeds support the Bounty Community Farm Programs and other initiatives that provide healthy food to those in need. EBT cards, cash, and credit accepted.
Details on website.
Sat. May 1, 9 am-noon
Valley of the Moon Garden Club Spring Plant Sale
Water wise plants, succulents, vegetables, perennials, annuals.
Altimira Middle School, 17805 Arnold Drive, Sonoma.
By Appointment Only, Thursday – Saturday, 10am-3pm
Plant Sales at Jail Industries
The nursery is open year-round and offers an outstanding selection of California native plants, landscaping classics and garden curiosities, vegetables and herbs at exceptional prices.
Local Gardening Resources
UC Master Gardener Program of Sonoma County
Online classes and information on gardening.
iGROW Sonoma
Gardening information, planting guides, and more. Presented by Wendy Krupnick and Sarah McCamant.
Don't miss a thing! Sign up for our weekly update!