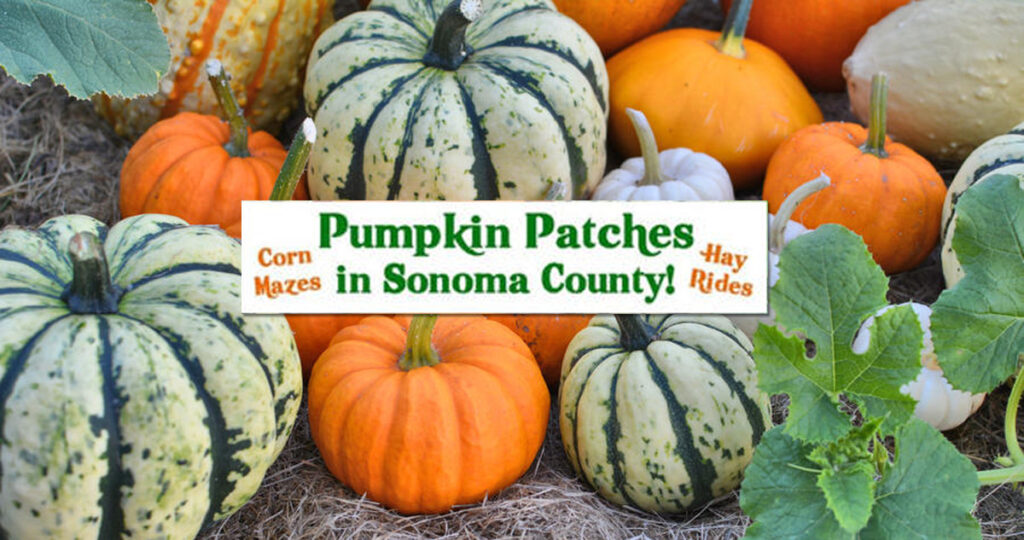 Celebrate the season with a visit to a local pumpkin patch!
Find the best pumpkins for your jack-o-lanterns and fall decorating and enjoy some outdoor family fun at local farms! At some, you can find your way through corn mazes and hay mazes, visit with farm animals, play games, and more!
Grandma's Pumpkin Patch
Open daily 10am-7pm, Sept. 27 – Oct. 31. Stroll through the pumpkins, pet farm animals, cclimb the hay stacks, run through the maze, and check out vintage tractors. Bring a lunch and linger at one of the shaded picnic tables.
17740 Healdsburg Avenue, Healdsburg.
Mickelson Pumpkin Patch
Open Daily Sept. 23rd – Oct. 30. See website for hours.
Choose from a variety of pumpkins, ride the grain train, enjoy the hay maze and hay pyramid, apple cannon, paintball gallery, and more!
5495 Redwood Highway, Petaluma.
Muelrath Ranches Pumpkin Patch
Open daily, Sept. 30 – Oct. 31, 10am-6pm.
Pick up pumpkins, mini pumpkins, ornamental corn, sunflowers, corn stalks, gourds, winter squash, and hay bales. The fun includes a corn maze, hay rides, a haunted dungeon, and a pumpkin sling shot!
3800 Walker Ave., Santa Rosa.
PaPa's Pumpkin Patch
Open daily Oct. 1 – Oct. 31, 9am to 4pm.
Pick your own pumpkin right off the vine in the shade of old-growth redwoods. Choose from seven varieties of pumpkins in the field.
13110 Occidental Rd, Sebastopol.

Petaluma Pumpkin Patch & Amazing Corn Maze
Open daily Sept. 23 – Nov. 1.
Fifty different varieties of pumpkins, squash and gourds. Offers a 4-acre A'Mazing Corn Maze and Lil Kids' Corn Maze in addition to a straw bale mountain, farm animals, pony rides and more.
450 Stony Point Rd, Petaluma.

Pronzini Pumpkin Patch
Sept. 24 – Oct. 31. Open daily – see hours on website.
Acres of pumpkins along with the Haunted Guided Trail and Western Village. Cowgirl Cafe serves BBQ meals in shaded picnic area with live music on weekends. Pony rides on weekends. Covid safety guidelines in place.
3795 Adobe Road, Petaluma.
Punky's Pumpkin Patch
Oct. 1-31, Monday-Friday, 11am to 9pm, Saturday-Sunday, 9am to 9pm
Pumpkin picking with train and hay rides daily. Offers 30' slide, bounce houses, hay maze and fun photo ops. Weekend activities include cotton candy, snowcones, fresh squeezed lemonade and other delicious treats.
50 Mark West Springs Road in northern Santa Rosa at the Luther Burbank Center for the Arts.
Santa Rosa Pumpkin Patch and Corn Maze
Oct. 7th – Oct. 31.
A family farm full of fun! Includes an 8-acre pumpkin patch, giant hay bale maze, hay pyramid, sunflower maze, games, hay rides, farm animals and more! Covid guidelines in place.
5157 Stony Point Rd., Santa Rosa.
Foggy River Farm Pumpkin Patch and Peter Pumpkin Patch are closed for 2022.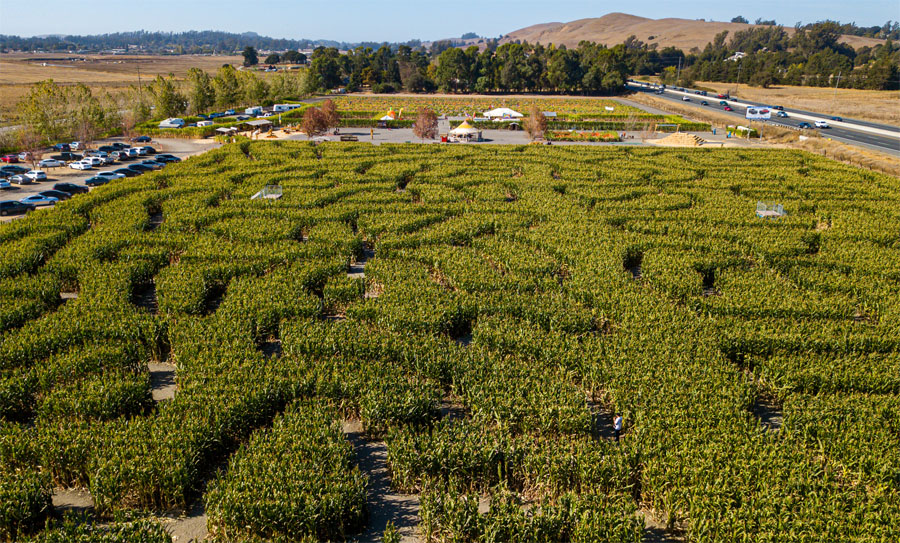 Also check out "Things to do in Sonoma County in Autumn"

Check out our guide to local Halloween and Día de los Muertos activities- Coming soon!