Uniquely Sonoma County
While we're staying safe at home, enjoy these virtual experiences brought to you by folks who make Sonoma County special, especially now!
The OAEC Barn, A Community Love Story
After The Occidental Arts & Ecology Center's historic barn burned down on April 28th, 2020, a generous community, in these challenging times, and core supporters at the 11th Hour Project offered up the funding to rebuild, so this cherished gathering space can endure well into the future.
Film makers Andrew Hasse and Sashwa Burrows donated their time and talent to create this video story of the beloved barn.
"Tiny House Live!"
Enjoy an episode of The Professor Randy Teaford's "Tiny House Live", with guests Shekeyna & Cindy Jenkins for a re-broadcast of the band "Soul Fuse" from the "Best of the Redwood Cafe" concert series.
On Tiny House Live, The Professor hosts talented visitors from around Sonoma County and the Bay Area in a wildly entertaining live recorded webcast, combining a talk show, live performances, and rebroadcasts. Tune into Facebook Live every Wednesday from 7-9pm. The audio & video engineer also provides mobile live video broadcast services to local musicians, specializing in Facebook live performances.
Kevin Russell and his Socially Distant Friends
"We just started playing outside at a safe distance and it was so much fun we're gonna do it every week from now on."
With Sonoma County musicians Tim Sarter, Barbara Arhon, Chris Samson, Kevin Russell and Candy Girard in Petaluma.
Video by Chris Samson.
Petaluma Pete, aka John Maher
A lifelong musician, Maher is retired from a career in the music marketing fields. For the past decade, Petaluma Pete, dapper in gloves, vest and derby, has been a downtown highlight, frequently seen — and heard — playing his wheeled piano, honky-tonking it up at events or busking on street corners.
It was he who spearheaded the placing of the pianos around Petaluma. "Christopher Stevick and I focus on the Petaluma River Promenade project. After that, tips for Petaluma Pete." 🙂
The Howling
A tentative yelp rings out in the twilight, then a few more, until the cries are answered by a howl from across the street, then another down the block. Soon, a chorus of howling rises into the darkness, as it does nightly now. Jimmy Lane captured the primal sounds of his Petaluma neighbors, in a ritual that's happening around Sonoma County and across the country, as people in coronavirus isolation express solidarity or frustration, or to voice their support for those on the front lines. (Turn up your volume.) Are you howling?
Join local celebrity chef Gerard Nebesky of Gerard's Paella and guests in his West County Kitchen!
June 3rd: Live and direct from his home kitchen from his home kitchen in West County, Gerard prepares "SQUID INK PAELLA!" And, has some great stories from the Burning Man crew to share as well.
Silver Shells Bling Party
The Bling Sisters, locals Shelley Diane and Cindy Jenkins, host a Facebook Live jewelry show every Sunday, featuring musical guests, restaurant recommendations, demonstrations of jewelry you can buy, and a lot of fun!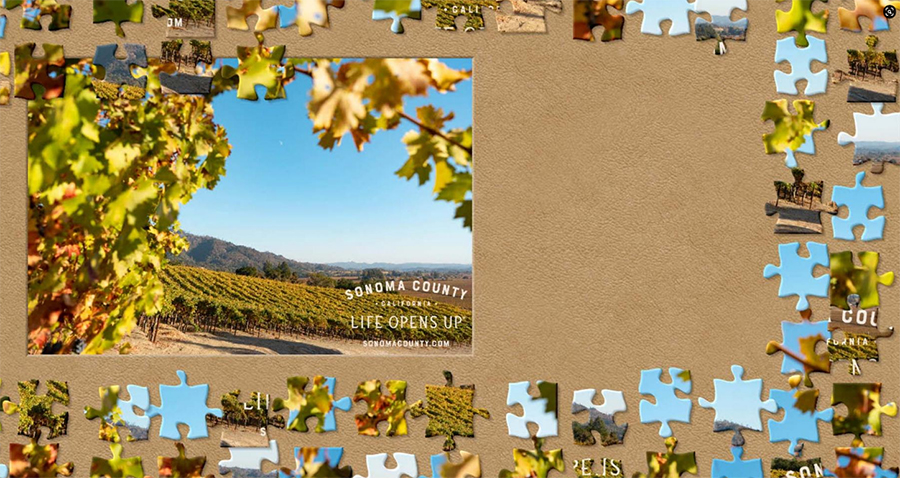 Play Digital Puzzles Of Sonoma County
Sonoma County Tourism's got some very cool online interactive puzzles featuring some of Sonoma County's most iconic views. Hike through redwood forests, take in the Pacific Ocean, ride in a hot air balloon, explore the vineyards of Sonoma County, or try a delicious wine & food pairing. (On any puzzle, you can click at top left to choose the number of pieces or upload your own image to create a puzzle!) Have some fun with these!