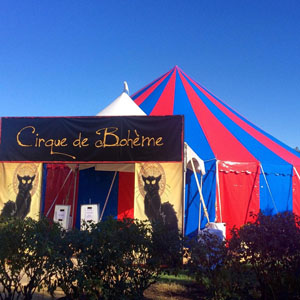 Sat, December 25, 2021, 1:00 pm - 6:15 pm
We are happy to announce that this winter the Cirque de Bohème Holiday Circus is back at Cornerstone in Sonoma!
We welcome all races, all religions, all countries of origin, all sexual orientations, all genders, all abilities !
November 26, 27 & 28 and December 4, 5, 11, 12, 18, 19, 25, 26, 2021 for a magical moment of entertaining. (Show daily at 1pm, 3pm and 5pm). Join us for this annual special event to celebrate your holidays this winter with the Cirque de Bohème, returning this winter for its eighth year!
This November and December, Cirque de Bohème will presents their new show called "Behind the Mirror" with an amazing cast of world class performers including: Magician, Mentalist, Mime, Slight Rope, Juggler, and more. " Behind the Mirror", is an exciting, imaginative trip back in time to the alleys of a magical and strange world. A show full of poetry, wonder,  joy and lots of laughs! We will transport you back in time for an hour of mystery and entertainment. Join Cirque de Bohème for this unique, treasured holiday tradition. And dont forget… your childhood dreams are alive. 
Tickets are available online at the following link: 
https://cirquedeboheme2021.bpt.me
We sincerely thank you for making our Holiday circus part of your family tradition for 8 years. We look forward to spending another magical experience with all of you!
A portion of all ticket sales to benefit The Sonoma Valley Mentoring Alliance. Cirque de Bohème will support with donation of free tickets "The Living Room" who is to ease adversity and promote stability, dignity and self-reliance for women and children who are homeless, or at-risk of homelessness, in Sonoma County.
Please be free to share this with your family and friends.
A Bientôt!
Cirque de Bohème.
View on Website Add to Google Calendar
Cornerstone Sonoma
23570 Arnold Dr. - Sonoma