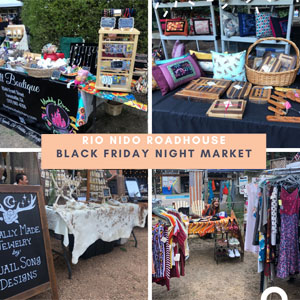 Fri, November 26, 2021, 1:00 pm - 6:00 pm
The Rio Nido Roadhouse's monthly Night Market will be held in the afternoon of Black Friday from 1PM – 6PM.
FRIDAY November 27. This is the day after Thanksgiving "Black Friday". Let's encourage folks to shop local and support our artists!
Who wouldn't rather have a cocktail and shop with friends under the redwoods than wrestle a mob at the mall???????
Bud & Riley will be playing live Bluegrass music for this one.
No entry fee.
View on Website Add to Google Calendar
Rio Nido Roadhouse
14540 Canyon 2 Road - Rio Nido