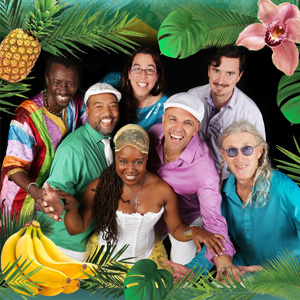 Fri, May 13, 2022, 9:00 pm
Dubbed the West Coast's hottest Brazilian band by promoters, journalists and fans, SambaDá musically unites the Americas. Based in the rich musical traditions of Brazil, SambaDá also references salsa and cumbia, and blends them playfully with funk and reggae beats. Brazilian natives Papiba Godinho and Dandha da Hora bring profound knowledge and respect for Brazilian music, and together with the entire band, they present a unique musical sound with a universal appeal.
SambaDá was formed in 1998 in Santa Cruz, California, by capoeira master Papiba Godinho, saxophonist Anne Stafford, and drummer Gary Kehoe and has gone on to conquer clubs and festivals across the country with its explosive Carnival-like performances. The band is known for its high-energy percussion, danceable grooves and visually dynamic show.
When singer and dancer Dandha da Hora arrived in Santa Cruz from Salvador, Bahia, Brazil and joined SambaDá in 2005, she brought the power of her Afro-Brazilian cultural heritage to the band. Dandha has been a performing member of the renowned group Ilê Aiyê of Brazil since she was 6 years old. Ilê Aiyê is one of the most beloved and important Afro Blocos from Bahia, Brazil. It is known all over the world for its music and dance performance and its social activism, fighting racism and promoting education, culture and tradition. Honoring Ilê Aiyê's legacy as well as their own commitment to a more just world, SambaDá works and plays for social justice, peace and the respect of all cultures and peoples.
Also in 2005, SambaDá crossed paths with Grammy-nominated music producer Greg Landau to create the 2007 release "Salve a Bahia". With "Salve", the band created a new sound that not only paid homage to folkloric music but also captured the spirit and musical background of each band member and added a modern, funky edge. The recording project and the bands' live shows also grew from the collaboration with two more talents from Bahia, Brazil, percussionists Marcio Peeter and Wagner Profeta. Marcio and Wagner bring their deep percussive knowledge and groove to the studio albums, as well as to the stage.
Following the success of "Salve a Bahia", the band collaborated on a second album with Greg Landau, the album "Gente" which was released in the spring of 2010. "Gente" vibrates with the inspiration of the band's first tour to Brazil in July 2009, and reflects their desire to share their dedication to Brazilian music, with some unique California flavor, with audiences everywhere.
2013 was a great year for SambaDá, as they welcomed 3 new members to the band, Etienne Franc (Chris Rene, OPM, Check in the Dark) on bass, and Senegalese drum master Ibou Ngom (Danjuma, Koumbemba) and Abel Damasceno from Bahia Brazil (Batala San Francisco) on percussion. They had a busy year touring, including headlining the Houston International Festival and playing New Orleans for the first time in April, and returning to Philadelphia and New York City, where they played SOB's to a packed house at the end of September.
2014 finds the group launching a brand-new album, alongside busy touring schedule. Inspired by recent collaborations and adventures, SambaDá has been busy exploring new dimensions of the music they love, which they are eager to share with fans old and new!
DOORS: 8pm | SHOW: 9pm 
$20 flat ($2 fee at door)
AGES: 21+
NO REFUNDS | ALL SALES FINAL
View on Website Add to Google Calendar
HopMonk Tavern – Sebastopol
230 Petaluma Ave - Sebastopol