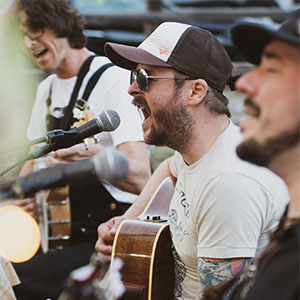 Fri, May 13, 2022, 8:00 pm
The Timothy O'Neil Band (aka T.O.B.) is a national touring bluegrass/Americana band based out of Sonoma, California. During their career, the band has released a full-length, entitled "TOB" and are currently finishing their sophomore effort, while frontman and guitar slinger, Timothy O'Neil has released 2 solo albums which are incorporated into the band's repertoire. Featured as one of 2016's "Bands on the rise" by the Press Democrat, The Timothy O'Neil Band mixes origin roots of bluegrass with a strong nod to punk rock, folk, and a lifetime and adoration for songwriters and songwriting. Tim Himself has released two solo records and the band is releasing their sophomore album on September 22nd.
Timothy O'Neil Band's new record entitled "All Hands on Deck" Blends the sounds of energy ridden steam punk anthems with the soulful honesty of folk ballads. There is a unique yet familiar sound to the songwriting and undeniable edge to this bands music and performances. The upbeat energy and anthemic songs of TOB have become the captivating additions to music festivals, such as Earle Fest, Railroad Square Music Festival, Temecula Bluegrass Festival, Rivertown Revival, and the Far West Fest. While Timothy has also performed at Kate Wolfe, BottleRock, and Guitarfish. They have shared the stage with Los Lobos, California Honey Drops, Robert Earle Keen, Norman Greenbaum, Hot Buttered Rum, Tift Merrit, Ozomatli, Ray Wylie Hubbard, Lucas Nelson, T Sisters, The Sam Chase & The Untraditional, Marty O'Reilly & The Old Soul Orchestra, El Radio Fantastique, The Brothers Comatose, Frankie Boots & the County Line, David Lunning, The Rainbow Girls and countless others. TOB is a guaranteed boot stompin' good time, don't miss the chance to see this band live.
Website – www.timothyoneilband.com
EVERY 2nd & 4th FRIDAY
DOORS 7:30 / SHOW 8PM
FREE
AGES 21+
View on Website Add to Google Calendar
Twin Oaks Roadhouse
5475 Old Redwood Hwy - Penngrove