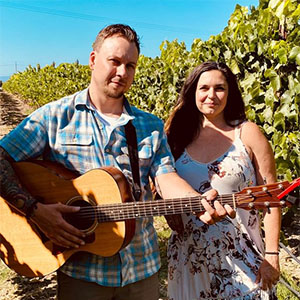 Sat, September 4, 2021, 4:20 pm - 7:20 pm
Bay Area singer/songwriter Anthony Presti and Sonoma County singer Leah Van Dyke have been teaming up for almost a decade. Presti has a unique style that blends influences of his past; from his time living in Seattle listening to grunge bands like Nirvana and Soundgarden, to classic rock bands his mom used to play like Tom Petty and Bruce Springsteen, to more contemporary artists like Ryan Adams and the Avett Brothers. 
The Americana/Folk duo met through the Sonoma County music scene. Both living in Santa Rosa at the time, Presti was introduced to Leah on a blind date, which concluded to them sharing a musical passion. Leah was the lead singer of a power house blues rock band, The Brothers of Siren, and he attended a few shows before recruiting her for his songs. Their voices melded together in perfect harmony and they've been singing together ever since. 
Anthony and Leah have opened for grammy nominated artists Gretchen Peters, have headlined Santa Rosa's Music Festival Live at Julliard Park and have collaborated on three albums. While Presti is the main songwriter, Leah adds a dynamic that is undeniable. She is part of his full band, The Tusslers, and the duo brings an energy and an intimacy that is special.
www.anthonyprestimusic.com
instagram @ anthonyprestimusic
Facebook @ aprestimusic
View on Website Add to Google Calendar
The Toad in the Hole Pub
116 5th St - Santa Rosa