Farmers Markets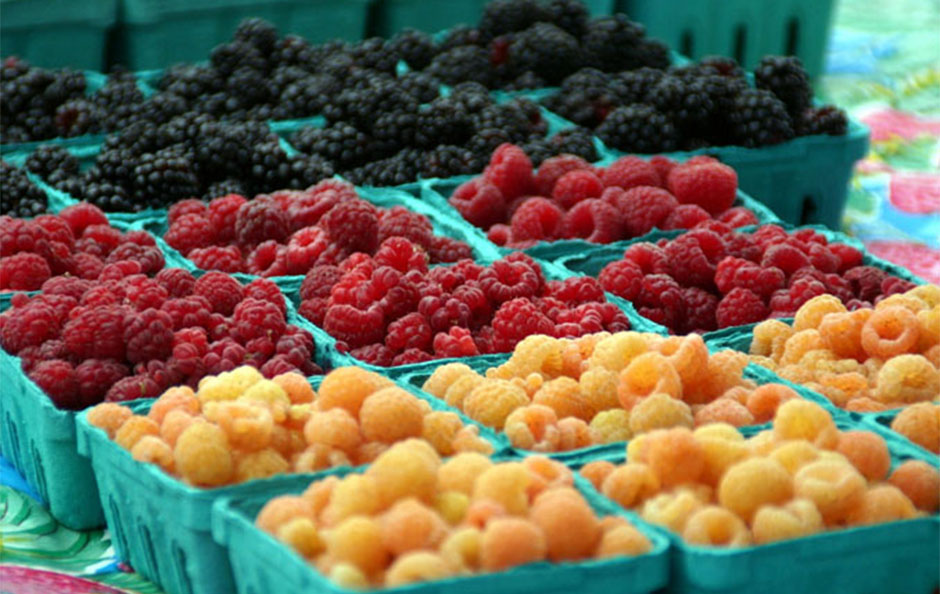 Farmers Markets maintain Covid-19 health practices for safe shopping for fruits, vegetables and other fresh, locally produced goods. Support your local farmers and a strong local food system! Please wear a mask, practice social distancing, and follow the market's instructions.
*Year-round markets
Bodega Bay Community Farmers Market
Sundays (May-November), 10am-2pm., 2255 Highway 1, Bodega Bay.
Cotati Community Farmers Market
Wednesdays 4:30-7:30pm, June-September.
La Plaza Park, Old Redwood Hwy & W Sierra Ave, Cotati.
Forestville Farmers' Market
Tuesdays: 4-7pm, June – September.
6990 Front Street, Forestville.
Healdsburg Farmers' Markets
Saturdays: 8:30am-noon, April 17- December 18, 2021. West Plaza parking lot.
Tuesdays: 9am-1pm, April 20-October 26, 2021 Downtown Healdsburg Plaza.
Kenwood Community Farmers Market
Sunday 11a – 3pm, June -September.
St. Patricks Church, 9000 Sonoma Hwy, Hwy 12, Kenwood.
*Oakmont Certified Farmers' Market
Saturdays, 9am-12pm
Oakmont Drive & White Oak Drive, Santa Rosa
Occidental Community Farmers' Market
Fridays, 4pm-8pm, May 14-October. Located at the south end of downtown Occidental.
* Petaluma East-Side Certified Farmers Market
Tuesdays 10am to 1:30pm. Year Round | Rain or Shine
320 N McDowell Blvd. Petaluma.
Petaluma Theatre District
Thursdays 4:30-8pm, June 4-August 27
140 2nd St #112, Petaluma.
Petaluma Walnut Park Farmers Market
Saturdays 2-5pm, May 9 – Nov 22
Walnut Park 4th St & D St, Petaluma
Rohnert Park Community Farmers Market & Party on the Plaza
Fridays 4-7pm, June – August
6250 Lynne Conde Way, Rohnert Park.
Russian River Farmers Market
Thursdays (May-September): 3-7 p.m., the Plaza, Guerneville
* Santa Rosa Community Certified Farmers Market
Wednesdays 9am – 1pm; Saturdays 9am – 1pm; Year Round | Rain or Shine
Farmers Lane Plaza 1501 Farmers Lane, Santa Rosa.
* Santa Rosa Community Farmer Market at the Veterans Building
has temporarily moved to Farmers Lane Plaza – See above.
* Santa Rosa Original Certified Farmers Market
Wednesday & Saturday: 8:30am to 1pm.
Luther Burbank Center for the Arts
50 Mark West Springs Road, Santa Rosa.
* Sebastopol Certified Farmers Market
Sundays, 10am – 1:30pm, Year-Round
Sebastopol Plaza on Weeks Way, downtown Sebastopol.
Sonoma's Tuesday Night Market
3-6pm, May-August.
Farmer and Agricultural Product Only Market at the Sonoma Veterans Memorial Building East Parking Lot,
126 1st St West, Sonoma
* Sonoma Valley Certified Farmer Market
Fridays, 9am-12:30pm, 241 First St. W., Sonoma.
Windsor Certified Farmers Market
Sundays, 10-1, April-December and Thursdays, 5-8pm, August 26-October 7.
701 McClelland Dr., Windsor.