Hiking in Sonoma County
Let's get outdoors and enjoy the beauty of nature in Sonoma County! Here are some great spots to explore. Why not plan to hike each one?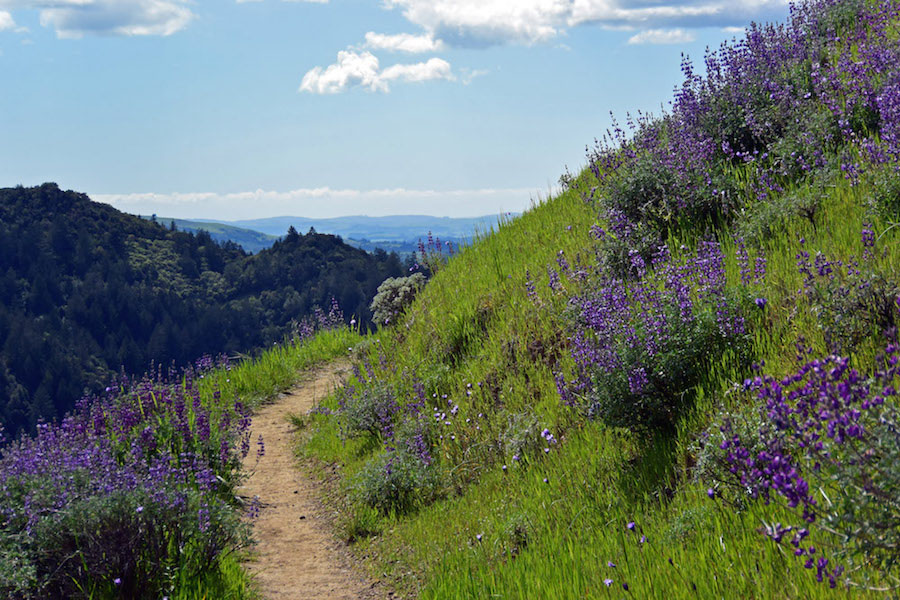 Sugarloaf Ridge State Park near Kenwood contains the headwaters of Sonoma Creek. It runs through gorge and canyon, across the meadow floor, beneath scenic rock outcroppings, and is surrounded at times by redwoods and ferns.
---
Note: Dogs allowed unless otherwise specified.
17000 Armstrong Woods Rd, Guerneville.
The forest floor is now open after fire damage restoration. Armstrong Redwoods preserves stately and magnificent coast redwood. The 1-1/2-mile Pioneer Nature Trail is ADA accessible and is mostly flat and level. Dogs allowed only on the paved road, not on any trails.
355 Highway 1, Bodega Bay
1.19-mile path that loops along a saltwater marsh just north of Doran Regional Park and offers excellent bird-watching. The trail circles two freshwater ponds along Bodega Harbor and overlooks marshland that provides year-round habitat for waterfowl, shorebirds and songbirds.
The trail is gravel, generally flat, and moderately accessible for wheelchairs. Parking is available in a lot along Highway 1.
31820 McCray Road, Cloverdale
features a paved 1-mile trail through riparian forest, fishing access, and boat launch.
2255 Highway 1, Bodega Bay
A 1.1-mile bike and pedestrian trail between the Bodega Bay Community Center and Keefe Avenue with prairie and coastal views, wildlife viewing opportunities, and connections to Sonoma Coast State Park, the Salmon Creek neighborhood, and south Salmon Creek Beach.
3600 Stony Point Road, Santa Rosa
A 1.2-mile paved trail running along a portion of the creek between Bellevue Avenue and Todd Road in southwest Santa Rosa. This accessible trail offers an urban, streamside stroll with some birdwatching opportunities and views of the Laguna de Santa Rosa watershed.
5000 Pressley Rd, Santa Rosa
The 128-acre park has 3.5 miles of trails and an 18-hole disc golf course. Crane Creek flows through the middle of the park. Ridges offer sweeping views of the countryside.
201 Doran Beach Rd, Bodega Bay
Features a wide, 2-mile stretch of beach on Bodega Bay ideal for walking, picnicking, playing in the sand, flying kites, surfing, and bird-watching with a boat launch.
Healdsburg
3 mile loop trail through a dense forest of coast redwood, Douglas fir, California bay, madrone, oaks, and a rich array of understory species.
1351 Arata Ln, Windsor
A 211-acre wilderness park in the foothills of the Mayacamas Mountains. The park features thick oak woodlands, rolling hillsides, views of northern Sonoma County, three ponds for bass and bluegill fishing, meadows, and spring wildflowers.
19005 Coast Hwy, Jenner
Located eleven miles north of Jenner on California Highway One, one of the most scenic coastal routes in the world Fort Ross is surrounded by sandy beaches, panoramic coves, and redwood forests, with breathtaking views of the Pacific Ocean.
Arabian Way, Healdsburg
Trails among wetlands and oak woodlands, rocky serpentine chaparral and open grasslands; bird and wildlife viewing.
411 Chileno Valley Rd, Petaluma
Six miles of trails cross grassy hillsides and weave through oak woodlands. Ridge-top trails provide panoramic views of the city and the southern Sonoma County countryside.
3000 Los Alamos Road and 1450 Pythian Road, Santa Rosa
Featuring 19 miles of trails for hikers, mountain bikers and equestrians that climb through mixed-conifer forests and cross meadows and creeks. Due to elevation gains, the hiking can strenuous.
2400 London Ranch Rd, Glen Ellen
Two relatively short historic trails will take you to the Wolf House and on a tour of the Beauty Ranch. 29 miles of back-country trails that traverse through mixed forest, redwood groves, oak woodlands, and grassy meadows. Museum and historic buildings (Museum and cottage are currently closed due to Covid restrictions.
12001 CA-1, Jenner
A spectacular 5,630-acre mosaic of redwood and Douglas fir forests, oak woodland, chaparral, and coastal prairie overlooking the Pacific Ocean.
4211 Sebastopol Rd, Santa Rosa
an 8.5-mile paved, off-road trail linking downtown Santa Rosa and Sebastopol. This accessible trail runs parallel to Highway 12 and is a popular route for cyclists and pedestrians. Its rural sections offer views of farmland, the Laguna de Santa Rosa and surrounding mountains.
6303 Highway 12, Santa Rosa
This 1.8-mile multi-use trail lets visitors experience some of the biologically diverse landscape of Sonoma County's largest freshwater wetland. The trail loops around Kelly Pond, which offers an overlook for great bird-watching.
Sebastopol
This is the best place to access the Laguna itself. You can walk the gravel trails past ponds and marshes to the seasonal bridge, or sit on benches under towering valley oaks and Oregon ash. A two mile hike encircles the entire area. Trails are accessible to walkers and wheelchairs but not bikes. Parking at Sebastopol Community Cultural Center, 390 Morris St, Sebastopol,
17599 Fitzpatrick Ln, Occidental
This 48-acre sanctuary is a healthy, old-growth stand of Coast Redwood. On a clear day you see the rolling hills of Marin, Point Reye and beyond to the Pacific Ocean.
100 Verano Ave, Sonoma
2.5 miles of level trails offer easy hikes under giant oaks and bay trees in the park's 40 acres of riparian backcountry.
1st St West and 4th St West, Sonoma.
Trails offer beautiful views of Sonoma Valley, San Francisco and San Pablo Bays.
5297 Sonoma Mountain Rd, Santa Rosa
The Ridge Trail begins in the ferns and redwoods on the south fork of Matanzas Creek, then climbs to nearly 2,000 feet through forests of oaks and bay laurels and treats hikers to stunning views of peaks surrounding Santa Rosa and Sonoma Valley.
20600 Mockingbird Dr, Bodega Bay
A half-mile path leading to a small, picturesque beach on Bodega Bay. The beach here is a quarter-mile long and is dotted with interesting rocks, tide pools and a distinctive rock formation just offshore.
a 6.5 mile heavily trafficked loop trail located near Jenner, California that features beautiful wild flowers and is rated as moderate.
500 Ragle Road, Sebastopol
Featuring 3.56 miles of trails with excellent birding and wildlife-viewing opportunities.
7821 Eastside Road, Healdsburg
The 2-mile Lake Trail loops around the larger lake, Lake Benoist, and has a short spur to a small gravel beach on the Russian River. The .5-mile Redwood Hill Trail climbs through a grove of coast redwoods.
Never miss a thing!
Sign up for our weekly update on what's Happening in Sonoma County!
25050 CA-1, Jenner
The shoreline of the 6,000-acre park features rocky promontories, such as Salt Point, that juts out into the Pacific Ocean. There are more than 20 miles of hiking trails in the park. At the top of the coastal ridge, there is a large open prairie and pygmy forests.
2100 Sears Point Road, Sonoma
Several trails encompass views of bay and tidal marsh, mud flats, wetland habitat, and open water. Download a trailmap.
782 Willowside Road, Santa Rosa
This paved trail runs along the creek for 2.14 miles between Willowside Road and the City of Santa Rosa's Prince Memorial Greenway into downtown Santa Rosa. It features views of the waterway, farms, vineyards, and mountains.
5750 Faught Road, Windsor
features a rugged landscape in the foothills of the Mayacamas Mountains and offers nearly 8 miles of trails for hiking, bicycle and horseback riding. A looped trail system offers moderately difficult hiking on unpaved trails and allows hikers to create routes of varying lengths and intensity. The Ridge Trail features panoramic views of north-central Sonoma County.
1400 Cader Ln, Petaluma
Features a two-mile circular trail and a one-mile cutoff trail across an iron bridge spanning Adobe Creek and running through Alman Marsh to the Petaluma Marina.
Regional Parks' most remote and undiscovered park. A drive to the coastal ridges of Annapolis leads to this small North County redwood park, where you're likely to have the grove of giant trees and the shaded banks of Soda Springs Creek all to yourself. The park is about 11 miles east of The Sea Ranch, and the last few miles are on a gravel/dirt road with several wooden bridge crossings, which makes this journey an adventure of its own.
Highway 1 and Goat Rock Road, Jenner
Featuring long sandy beaches below rugged headlands, it spans 17 miles from Bodega Head to Vista Trail which is located approximately 4 miles north of Jenner. The Kortum Trail connects Wright's Beach in the south to Blind Beach in the north, which is about 4.6 miles round trip. The relatively easy trail offers sweeping views of the ocean Note dog rules.
A nearly 3 mile gentle grade walking path set onto the hillside backdrop above the City of Sonoma with views of the Sonoma Valley. The trailhead is at the entrance to the Mountain Cemetary, just a few blocks north of the Sonoma Plaza. This property is adjacent to the Montini Open Space Preserve, providing for increased trail options. Dogs, bikes and horses are not permitted on the trail.
13630 Highway 12, Glen Ellen
The 202-acre park features several miles of trails, including a paved, 1.2-mile path curving through magnificent oak woodland. Unpaved trails connect to surrounding hillsides and ridges, offering looped hiking options.
Sonoma County Water Agency – More than 4800 native plants and approximately 15,000 native grass seedlings have been planted over 30 acres. The trail head is located just west of the intersection of Rohnert Park Expressway and Stony Point Road. The parking area is on the west side of Stony Point Road, south of the bridge that goes over the Laguna.
393 Violetti Road
Nearly 10 miles of trails for hiking, running, biking and horseback riding, including an easy paved route around the lake and connections to Trione-Annadel State Park and the city of Santa Rosa's Howarth Park.
9000 River Road, Forestville
Steelhead Beach includes several short trails that make a nearly 1-mile loop through woods along the riverbank.
22455 Highway 1, Jenner
Featuring more than 3 miles of trails. The 1.6-mile Canyon Trail loop follows Stockoff Creek through a canyon of towering redwoods filled with ferns. Just north of the cove, Stillwater Bluff Trail curves above the rocky coastline and offers beautiful views of the Pacific.
2605 Adobe Canyon Rd, Kenwood
On a clear day, the views from the top of Bald Mountain (elevation 2,729 feet) are magnificent and include the Sierras to the East, San Francisco Bay and Mount Diablo to the South, Mount Tamalpais to the South-West, the Coastal Range and the Pacific to the West and Mount Saint Helena to the North. The park is home to the headwaters of Sonoma Creek including a 25-foot seasonal waterfall.
3820 Petaluma Hill Road, Santa Rosa
This 1,100-acre park features grassy hillsides, oak woodlands and several creeks that all provide habitat for a variety of wildlife. The park currently offers 5.5 miles of trails for hiking, biking and horseback riding
5869 Cannon Lane, Petaluma
More than 11 miles of trails across mostly open grasslands. With the park's permanent opening, visitors have new access to its southern acreage via an extension of the West Ridge Trail.
6201 Channel Drive Santa Rosa
Miles of trails for hiking, mountain biking, and trail riding. You'll find a great variety of flowers from early Spring until early Summer, especially on a hike around Lake Ilsanjo. Dogs are not allowed on the trails.
9251 Ross Station Rd, Sebastopol
A mostly paved, 5.5-mile trail linking Sebastopol, Graton and Forestville. The path is separated from Highway 116 and offers views of farms, pastures, and vineyards.
.
.