On Stage in Sonoma County
---
Experience the magic of theatre!
Theatre offers a captivating experience for audience members. All the elements of a live show – the actors, sets, and costumes— combine to make you feel like you're actually stepping into someone else's shoes instead of watching from the outside.
Unlike a movie, a theatre performance is never the same show twice; it's a vibrant experience that is unique to that particular audience.
And, remember that the shows we enjoy in Sonoma County are produced largely by members of our community, working on the stage and behind the scenes to entertain and engage us.
So get out and see a show!
Nov. 18-Dec. 4, 2022
SpongeBob the Musical at Santa Rosa Junior College
Adapted from the iconic Nickelodeon series! SpongeBob, Patrick, Sandy, Squidward and all of Bikini Bottom face total annihilation—until a most unexpected hero rises to take center stage. With its dazzling costumes, spectacular production numbers and cheeky humor, this delightful undersea musical is sure to appeal to all ages.
Nov. 18-Dec. 24, 2022
The Passion of Tosca presented by Curtain Call Theatre, Monte Rio
The great 19th Century actress Sarah Bernhardt made a sensation with the five-act French play La Tosca by Victorien Sardou.
When the Italian composer Giaccomo Puccini adapted it into a three-act opera at the end of the 19th Century it achieved immediate success and has enjoyed extreme popularity ever since at opera houses all over the world.
Dec. 2-30, 2022
Ham for the Holidays at Main Stage West
Written by Shad Willingham, Directed by Emily Cornelius
It is a late December morning in 1939 at small-town Georgia radio station WHAM and the station staff is in a tizzy over their special Christmas show, to be preformed that very evening, with radio wunderkind Mr Orson Welles himself. But when a freak blizzard hits town, the complications mount, as do the hijinks in this hilarious holiday farce.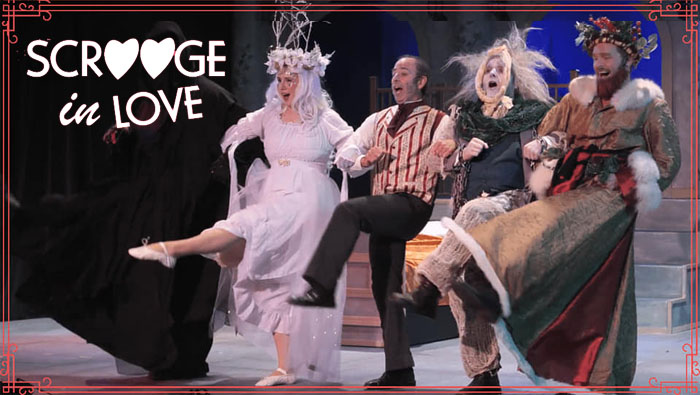 Nov. 25-Dec. 18, 2022
Scrooge in Love at 6th Street Playhouse
When we last left Ebenezer Scrooge, the grumpy old miser had become a loving, generous, kind human being with the aid of ghosts who visited him one Christmas Eve, each teaching him valuable lessons.
Exactly one year later, once again the ghosts of past, present, and future come calling. This time not to scare Scrooge into generosity—but instead to entice him out of loneliness and into love.
Dec. 2-18, 2022
Sonoma Arts Live presents
Always, Patsy Cline
Created by Ted Swindley, Directed by Michael Ross
Music Direction by Ellen Patterson
Always… Patsy Cline is more than a tribute to the legendary country singer it is a musical play, complete with down-home country humor, true emotion and even some audience participation, includes many of Patsy's unforgettable hits such as "Crazy," "I Fall to Pieces," "Sweet Dreams" and "Walkin' After Midnight – 27 songs in all.

Dec. 9-17, 2022
Santa Land Diaries at The California
By David Sedaris
Adapted by Joe Mantello, Argo Thompson and David Yen
The outrageous holiday comedy, written by NPR comic genius David Sedaris, recounts the true-life tale of an out-of-work writer's stint as a Macy's Department Store elf. Sardonic, satirical and sarcastic, the merry misanthrope's tale is a laughter-spiked antidote to the holiday blues.
The play contains mature content and is not recommended for children.
Dec. 3-11, 2022
The Elves and the Shoemaker at the cloverdale Performing Arts Center
Written by Kristin Walter, directed by Nichole Phillips-Rakes.
Eric, the lone shoemaker of Grimmsville, makes shoes that are miserably uncomfortable and impossible to walk in… leaving a lot of barefoot villagers and Eric without a means to provide for his family. While his wife tries to be supportive, his daughter Shannon just can't take it anymore! Sitting alone in the woods pondering her family's fate, Shannon is confronted by a stranger who offers her the deal of a lifetime. In exchange for her torturous pair of shoes, she is given a magical medallion that holds the charm of the elves…and maybe a curse, too.