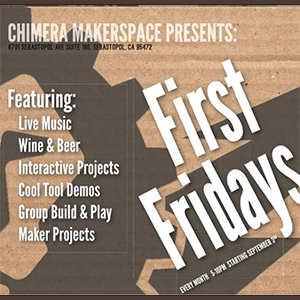 Fri, June 2, 2023, 5:00 pm - 8:00 pm
Chimera Arts, Sonoma County's maker space, continues their First Fridays at Chimera Arts, a showcase of our local maker community. There will be live music, food and beverages, activities and live demonstrations.
Old Caz beer, gourmet hot dogs, live music and demonstrations, and hands-on activities. See you there!
Chimera Arts is Sonoma County's only community arts and makerspace, located in downtown Sebastopol at the old Ford Garage building. We're a community of makers that offer classes, expertise and equipment to anyone interested in bringing their creative ideas to life.
View on Website Add to Google Calendar
Chimera Art Space
6791 Sebastopol Ave - Sebastopol