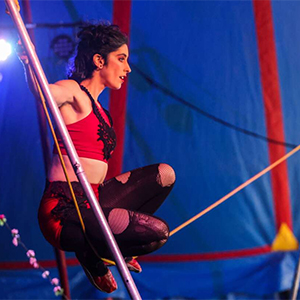 Fri, September 10, 2021, 7:00 pm
Under The Big Top Canopy
Sponsored by the Sebastopol Grange.
SEPT 9-12
Featuring high caliber acrobats, powerful imagery and original storyline, 'Fairytale' is daring, edgy and hilarious.  Our 2021 show is proud to present world class acrobats, City Circus Trio from St. Louis. This year's story, 'Fairytale', is an irreverent fable featuring a bombastic unicorn and his estranged back end in a quest to bring the youth back from the void. Thwarted by the mischievous weaver and the thieving Ravens, and upstaged by his own back end at every turn, our Unicorn's journey takes a bumpy road to redemption.  Aerialists, contortionists, jugglers, comedians and acrobats are some of the thrilling acts for this year's presentation
Beer, wine and concession are available for purchase.  Flynn Creek Circus is an all-human spectacle.
Showtimes:
Thursday, Sept 9 at 7pm
Friday, Sept 10 at 7pm (adults 21+ only)
Saturday, Sept 11 at 3pm
Saturday, Sept 11 at 7pm
Sunday, Sept 12 at 12pm
Sunday, Sept 12 at 4pm
Covid 19 Protocols
Flynn Creek Circus follows the current CDC guidelines requiring masks for unvaccinated persons.  In addition, our staff wears masks regardless of their vaccination status
Environment:
Circus tent is an open air, high ceiling canopy (no tent walls in audience area)
Face masks are recommended
Space between each reservation grouping
Hand free hand sanitizer at entrance of tent
All surfaces are sanitized before each showing
Multiple entrances/exits to prevent clustering
Staff:
Staff is vaccinated and/or tested regularly
View on Website Add to Google Calendar
Sebastopol Grange Hall
6000 Sebastopol Ave, Hwy 12 - Sebastopol