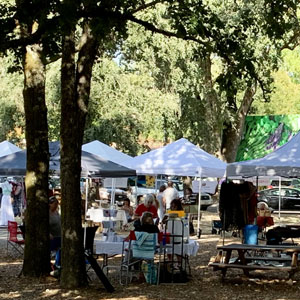 Tue, July 19, 2022, 4:00 pm - 7:00 pm
Located in downtown Forestville, our market takes place in a beautiful park under shady Oak trees.  The site hosts the West County Trailhead, connecting Forestville to our neighboring communities of Graton and Sebastopol.  Enjoy live music and specialty foods while sitting at one of the many picnic tables scattered around the park.  Have some famous Sonoma County wine or an ice-cold beer.  Get fresh produce from our friendly local farmers, and shop for arts and crafts, all in the spacious open-air setting.
We proudly support the "Farm to Pantry" program.  In 2020 our farmers donated 400 lbs of produce which was distributed to food banks through "Farm to Pantry".
We follow the current COVID-19 guidelines for Certified Farmers Markets.  Because the market is outdoors, masks are not required but are encouraged.  Please practice social distancing and be respectful of other market goers' space.
The Forestville Chamber of Commerce is a member of Sonoma County Farm Trails, a great organization that supports local farms, farmers markets, and more.
Questions?  Email us at:  info@forestvillefarmersmarket.com
The Forestville Certified Farmers Market is sponsored by the Forestville Chamber of Commerce.
View on Website Add to Google Calendar
Forestville Downtown Park
6990 Front St. - Forestville