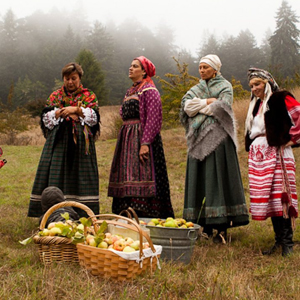 Sat, October 16, 2021, 10:00 am - 3:00 pm
Happy Fall! What better time to announce we will be hosting Fort Ross Harvest Festival than on the first day of fall. It has been two years since we welcomed you to this event and we have missed you all! 
Join us in the historic orchard for a safe and joyful reunion for Fort Ross Harvest Festival on Saturday, October 16, 2021. 
Our dear friends from Russian House Kedry will tantalize your eyes and ears with their enchanting traditional Russian songs and dances. Join in!
As the health and happiness of our visitors are paramount, this will be a low key version of our usual Harvest Festival celebration. We will not be organizing pumpkin carving, apple painting, or apple juicing this year due to the close proximity these activities require. 
Pack a picnic, bring an empty bag to collect fruit, and help us harvest the bounty of the orchard. We encourage gentle harvest of all the fruit found in the orchard. 
Bake a pie and tag us @fortrossconservancy with the result! We'd love to see what you do with these beautiful fruits. 
Bring a hat and wear layers – weather on the coast can change quickly. We will not have an ADA shuttle this year so please park at the main parking lot and walk up to the orchard. (You may drive to the orchard to drop members of your group off who may not be able to walk up to the orchard, but cars must be parked in the main Fort Ross parking lot.)
Entrance fees apply – $10 per car for parking. 
Call or email us for more information info@fortross.org/ (707) 847-3437
View on Website Add to Google Calendar
Fort Ross State Historic Park
19005 Coast Highway One - Jenner

Price: $0.00