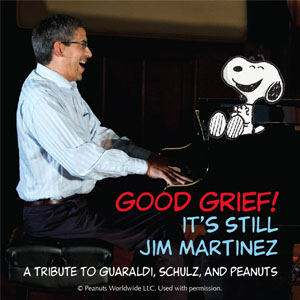 Sat, September 24, 2022, 12:00 pm - 1:30 pm
Music for Sonoma Families at the Charles Schulz Museum!
Saturday, September 24th, 12 pm – 1 pm
Free Event. No Registration Required
A tribute to Guaraldi, Schulz, and Peanuts at the Charles M. Schulz Museum.
A FREE MATINEE CONCERT for families hosted by Healdsburg Jazz artistic director Marcus Shelby, featuring the Jim Martinez Quartet featuring Clairdee.
A pianist, composer, and arranger, Martinez has created a wonderful, accessible concert that reimagines the music of Vince Guaraldi, who composed the songs for the classic, animated Peanuts specials of the 1960s.
This matinee will also explore the fundamentals of music by showing the audience through performance and answering the following questions:
How does music tell a story?
What is melody?
What is harmony?
What is rhythm?
What are the blues?
What is call and response?
What is improvisation?
What is swing?
What are some other cultural influences in music?
MADE POSSIBLE WITH FUNDING FROM CREATIVE SONOMA  – Thank you!
View on Website Add to Google Calendar
Charles M. Schulz Museum
2301 Hardies Lane - Santa Rosa