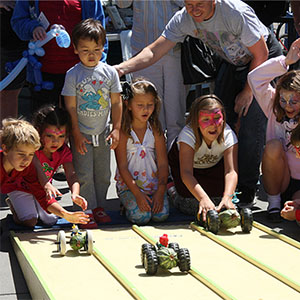 Sat, August 14, 2021, 8:30 am - 12:00 pm
Don't miss the hilarious and creative zucchini races and giant zucchini competition on Aug. 14th! Real zucchini made into racecars and raced down the special market track! Talented zucchini growers compete for Healdsburg's Biggest Zuke!
Enter to win, volunteer to help out, or just come and root for your favorite!
Registration Begins at 8:30am
TWO COMPETITIONS:
1) ZUCCHINI DECORATION AND RACING
Every zuke must have wheels so it can race down the track, and it must be decorated. Prizes for decorations and for winning races.
THREE Age Categories:
7 and under 8-15 16-ADULT
2) GIANT ZUCCHINI
The biggest zuke gets the biggest prize!
Great prizes donated by local businesses, plus MARKET BUCKS!
The Healdsburg Farmers Market features a wide variety of fruits and vegetables, as well as flowers, cheeses, honey, olive oil, bread, wild fish, pasture-finished meat, and fresh eggs, the market celebrates the agricultural heritage of this beautiful area. We also have delicious cooked food, packaged food product and beautiful handmade craft.
The market features live music and has special events, for fun and to raise awareness of seasonal produce. Don't miss the hilarious Zucchini races, and the great Pumpkin Festival carving contests. Cooking demos, live music and more will happen as the season progresses. We hope if you live in Healdsburg you will come visit us often, and if you are in town for vacation or business, make us part of your travel plans.
Come have a delicious and nutritious experience at our wonderful Farmers' Markets!
View on Website Add to Google Calendar
West Plaza Lot
North & Vine Streets - Healdsburg