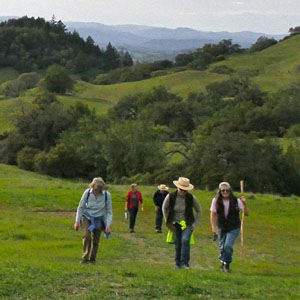 Sat, February 11, 2023, 9:00 am
Meet at the Dwight Center
Free, donations appreciated
Ages 10 and up welcome
Join us for fun, exercise, and learning! Explore Pepperwood's forests and grasslands as you learn about animals, plants, natural history, and the ecological stewardship of our 3,200 acre preserve. This spring season we will explore the vibrant green hills, wildflowers, and other unique seasonal phenomena. See how our landscapes have been impacted by fire, and explore the implications of a changing climate. Find out what Pepperwood is doing to steward the land and build resilience at our preserve and beyond. Participants are invited to bring a bag lunch to enjoy on the hike.
This is a moderate to strenuous hike of 3-4 miles, over varied and hilly terrain including uneven surfaces.
This event will go on in light rain. However, it could be canceled in the case of heavy storms or unhealthy air quality. In the case of cancellation, registered attendees will be notified via email.
COVID Protocols: All events will follow current regional health safety guidelines. Please practice good health hygiene, and physical distancing when possible. If you do not feel well, please do not attend.
View on Website Add to Google Calendar
Pepperwood Preserve
2130 Pepperwood Preserve Rd - Santa Rosa