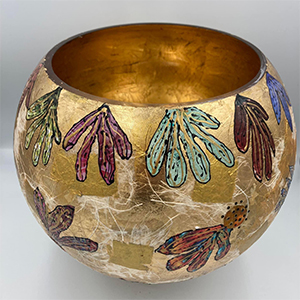 Sat, December 3, 2022, 11:00 am - 4:00 pm
The artists at Fulton Crossing invite you to their big Holiday Art Walk featuring 17 art studios, free refreshments, and prize drawings in each studio. Choose that perfect gift from ceramics, glass, jewelry, prints, cards. You can also view all the amazing fine art for sale in the main galleries. Saturday, December 3rd from 11:00-4:00 at 1200 River Road inside the Fulton Crossing artisan building.
Participating artists include: Laura Ames/ceramics… Joann Cassady/Ceramics… Dean Orlosky/Pottery… Kay Young/Glass, Mixed Media on glass …Patricia Reilly/Jewelry… Lida Rebik/Paintings…Marina Hanson/Paintings… Paula Stroether/Mixed Media and Paintings… Linda Dove Pierson/Mixed Media Paintings…Beth Failor/Paintings, Prints, Cards… Jill Keller Peters/Paintings, Prints… Bill Gittins/Paintings… J.D. Emmerson/Prints… Lucy Liew/ paintings, cards, aluminum prints, jewelry boxes, textiles… Teresa Saluzzo/Paintings,cards, Julie Hindley Marie/Paintings…Clark Mitchell/Paintings, prints and Tony Spiers/Paintings, prints.
View on Website Add to Google Calendar
Fulton Crossing Artisan Building
1200 River Rd - Fulton