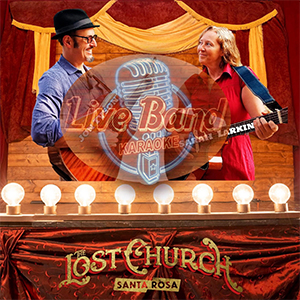 Thu, March 23, 2023, 7:30 pm
$15
Same price online and at the door.
Doors at 7:30pm.
Show from 8:15-10:30pm with one intermission
Every 4th Thursday of the month
Live Band Karaoke
Live Band Karaoke is the musical experience where you become the lead singer of a band of friendly, fun-loving musicians.
We make sure that you sound good and have a great time performing your song, which you select from a songbook with mostly rock from the 70s through the 00s.
How does the sign up process work at Live Band Karaoke?
We will have song lists and QR codes posted at the venue; you scan the code with your phone and then fill out an online form with your name and song selection.  We receive those signups on stage and will call you up when it's your turn. Time permitting, we will also circulate through the venue, encouraging you to pick a song, and helping you sign up.
Can singers sign up in advance? 
To keep things fair, we will begin accepting signups when the doors open at 7:30PM, and then bring singers up in the order signups are received. We'll do our best to make sure everyone has a chance to sing before allowing repeats.
Is there a sign up cut off time? 
There is no cut off time, other than the practical limit of our show wrapping up by 10:30PM.
Can I see a song list in advance?
Live Band Karaoke features Sarah Larkin of The Real Sarahs (https://therealsarahs.com/ ) and Jon Tyson of Burning Down the House (https://www.burningdownhouse.com/ ), plus guest artists each month to keep things fresh.
http://www.livebandkaraokesf.com/
https://www.facebook.com/livebandkaraokesf
Recommended if you like: Singing and fun!
Vaccines, boosters, and masks are strongly encouraged, but are not required as per local Public Health Policy.
View on Website Add to Google Calendar
The Lost Church Santa Rosa
427 Mendocino Street (Entrance on Ross Street) - Santa Rosa