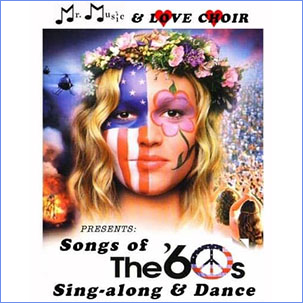 Wed, November 23, 2022, 6:00 pm - 8:30 pm
Mr. Music, The Love Choir, and You!
Mr. Music and The Love Choir invite you to show up and sing the songs from the greatest era of music, The 60's.  With a live band of seasoned musicians including MoonPuppy, Terry Keady, Jackson Ahern, Don Connolly, and Mr. Music aka Jim Corbett.  We encourage you to don the garb of the era if your bell-bottoms still fit!  And 'wear your love like heaven'.  After a night of singing these nostalgic songs, you will feel 17 again.  The music is powerful and a perfect antidote to the crazy times we live in now.
_ _ _ _ _ _ _ _ _ _ _ _ _ _ _ _ _ _ _ _ _ _ _ _ _
WED 11/9   6:00-8:30 The Bluebyrds
THUR 11/10   6:00-8:00 Howling Coyote Tour
FRI` 11/11   6:00-8:00 Meli Levi
SAT 11/12 12:30-2:30 Donovan Patrick Walsh
SAT 11/12 6:00-8:00 Marcos Pereda
SUN 11/13  5:000-8:00 Ghosts of Electricity**
WED 11/16   6:00-8:30 Crying Time
THUR 10/17   6:00-8:00 James M. Harman
FRI 11/18  6:00-8:00 Madeleine King
SUN 11/20  12:30-2:30 Dave Hooper
SUN 11/20 6:00-8:00 Solid Air
WED 11/23   6:00-8:30 60's Show Sing Along
FRI 11/25   6:00-8:00 Ricky Ray
SAT 11/26 12:30-2:30 Timothy O'Neil
SAT 11/26 6:00-8:00 James Patrick Regan
SUN 11/27  12:30-2:30 Kopely and Radice
SUN 11/27 6:00-8:00 Buzzy Martin
** ticketed event ($)
View on Website Add to Google Calendar
HopMonk Tavern – Sebastopol
230 Petaluma Ave - Sebastopol