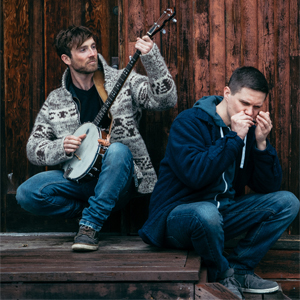 Thu, October 14, 2021, 8:30 pm - 11:45 pm
downtempo / world / EDM
MOONTRICKS:
Nestled deep in the beautiful Kootenay mountains of Western Canada lies the home ofMoontricks, a duo whose timeless sound captures the essence of their rugged roots. Combining their love of folk, blues, and electronic music, Nathan Gurley and Sean Rodman are blazingtheir own trail, merging musical worlds previously unacquainted and capturing audiences alongthe way.Since connecting in their rural hometown through a shared love of music, the pair's chemistrywas instantly apparent. With Gurley at the production helm and Rodman on songwriting andvocals, they've birthed an authentically raw and seductive sound infusing grassroots blues,wistful soul, and gritty, boot­stomping bass. Their breakout organic hit "Home" has surpassed 1million streams and their music is frequently licensed for film and television.Once a best­kept secret in Canada's festival circuit, Moontricks is now taking their sound worldwide.
Feeling just as at home on an electronic festival stage one weekend and a folk festival the next,their spirited live performances feature an assemblage of guitar, keys, banjo, and vocals atopstunning original productions. Their touring schedule has seen them play across North Americaand Australia with stops at major festivals like Lightning In A Bottle, Rainbow Serpent, andShambhala Music Festival ­ where they've become fan favourites, playing every year since theirdebut in 2013.From rural beginnings to global festival stages, this humble duo is now taking on the world.Dazzling audiences with their infectious vibe and unmistakable rhythm, Moontricks are clearproof that originality and passion can spark a creative odyssey.
+ MIRROR POOL
Alyra Rose and Alyson Miller are ancient soul sisters who met long ago on an auspicious full moon night in the Mendocino Mountains. They met very briefly and carried on. It wasn't until years later when their lives truly collided and incited something magical. Bonding through their love of music and art they have been crafting and delving into the realm of music and melody now for over 13 years. They weave soulful harmonies with an electro acoustic sound. Alyra is an avid song writer and skilled guitar player while Aly has the voice of an angel and lyrics that capture your heart. She also has a cunning ear for dynamic soundscapes that she weaves into the music in their more electronic sets. They are known for performing with a loop pedal, electric guitar, beats and wild effects or just an acoustic guitar and their lovely voices. Both are captivating in their own right. Together their forces combined is something not to be missed. They have toured from New Mexico to Ireland while making a name for themselves on the west coast where they reside. Alyra and Alyson are recording their first album together in 2020. Stay Tuned.

DOORS: 8pm | SHOW: 8:30pm 
$18 flat (+ online fee's OR $2 fee at door)
AGES: 21+
Out of an abundance of caution and for the continued safety of our guests, staff and musicians, we will now require Proof of Full Vaccination, or a Negative PCR Covid Test taken 48 hours or less prior to the show. 
View on Website Add to Google Calendar
HopMonk Tavern – Sebastopol
230 Petaluma Ave - Sebastopol

Price: $18.00