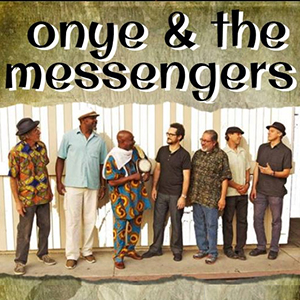 Sat, March 18, 2023, 5:30 pm - 7:30 pm
A virtuoso of African rhythm music, Onye Onyemaechi, renowned Nigerian percussionist, musician and performer brings a powerful experience to audiences across the U.S. and Europe. A native of Nigeria, Onye creates original compositions that blend tribal rhythms with contemporary music influences. His multicultural blend of hypnotic trance-dance music inspires and uplifts others to celebrate diversity and awaken the native joy of the soul. Performing both solo and in ensemble, Onye's artistry creates electrifying musical feasts and collaborations.
"The echoes of the village drums penetrate the dancer's psyche and operate in profound ways – familiar and mysterious," says Onye. "When people drum, laugh and cry, sing and dance together, they heal and feel joyful. Optimism is renewed!" Onye brings the soul of African Culture to celebrations and teaching. He blends the best of traditional culture and modern life styles in his work with individuals, organizations, and the world. Onye is a celebrated world percussionist, composer, and producer and have recorded music for interactive video games and numerous CDs. He has been featured on NBC TV affiliate program Coming Together and the video and film documentaries: Of Sound & Healing, Search for Spirituality, and as well as the Wisdom Channel. He was commissioned by the de Young Museum to dedicate their African collection.
Performing in the U.S. since the early 1980's, Onye has been featured in Billboard Magazine as musical director of the 'O Band', Artistic Director and Business Manager of his own performance company, The Igbote Ethnic Ensemble, and performed on numerous radio shows nationwide. His major performances include First Night Boston, Cambridge Arts Fest, Cambridge Multicultural Arts Center, Statue of Liberty Bicentennial Celebration (with his Igbote Dance Ensemble), and Harvard University Cultural Rhythms concert, de young Museum in California and Uetliberg Museum Arts Festival in Switzerland and Stadttheater Neuburg A.D. Donau, Germany.
View on Website Add to Google Calendar
Cafe Frida Gallery
300 South A Street #4 - Santa Rosa