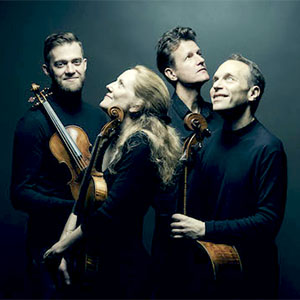 Sun, May 9, 2021, 3:00 pm - 4:00 pm
Due to COVID-19, sales will be online only. For assistance over the phone, please email tickets@sonoma.edu.
"Modern," "dramatic," "superb," "wickedly attentive," "with a hint of rock 'n roll energy" are just a few ways critics describe the musical phenomenon that is the St. Lawrence String Quartet (SLSQ). The SLSQ is renowned for the intensity of its performances, its breadth of repertoire, and its commitment to concert experiences that are at once intellectually exciting and emotionally alive.
In the words of Alex Ross of The New Yorker: "The St. Lawrence are remarkable not simply for the quality of their music making, exalted as it is, but for the joy they take in the act of connection."
How does it work?
Buy tickets for $10 (Gather your family around the tv or computer to watch all together. No need for multiple tickets.) or subscribe to the entire spring for only $70.
You'll receive an email 2 days before the event with a link and information about how to access the event. You can watch on any internet-connected device—TV, computer, tablet, phone, etc.
The video will be available to watch for 48 hours.
Price: $10.00