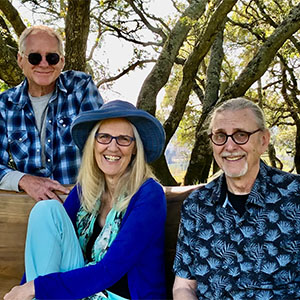 Wed, November 2, 2022, 6:00 pm - 8:30 pm
Wednesday's in the beergarden continue! Peacetown was so much fun, we never want it to end!! Kevin Russell and Jim Corbett are letting it roll on! Come enjoy an evening of FREE outdoor music in HopMonk Sebastopol's spacious beergarden!
Folk/ Americana/ Country
Music 6:00
Free in the Beergarden
The Farallons
The Farallons are a three-piece acoustic group playing a styleof music described as Americana with hints of other influences includingIrish, Jazz, Classical, Country, and even Latin. Tom Richardson, Terry Mills,and Linda Weber blend a very tight three-part harmony with steel and nylonstringed acoustic guitars, bass, mandolin, flute, and hand percussion. Sets include finely crafted original songs by award-winning songwriter Tom as wellas cover tunes from the likes of Buffalo Springfield, Crosby, Stills &Nash, Tom Waits, Richard Thompson, and Karla Bonoff. The Farallons are seasonedprofessionals with a well established Sonoma County following. They show up ontime, look good, don't eat much, and work well with the staff.
View on Website Add to Google Calendar
HopMonk Tavern – Sebastopol
230 Petaluma Ave - Sebastopol