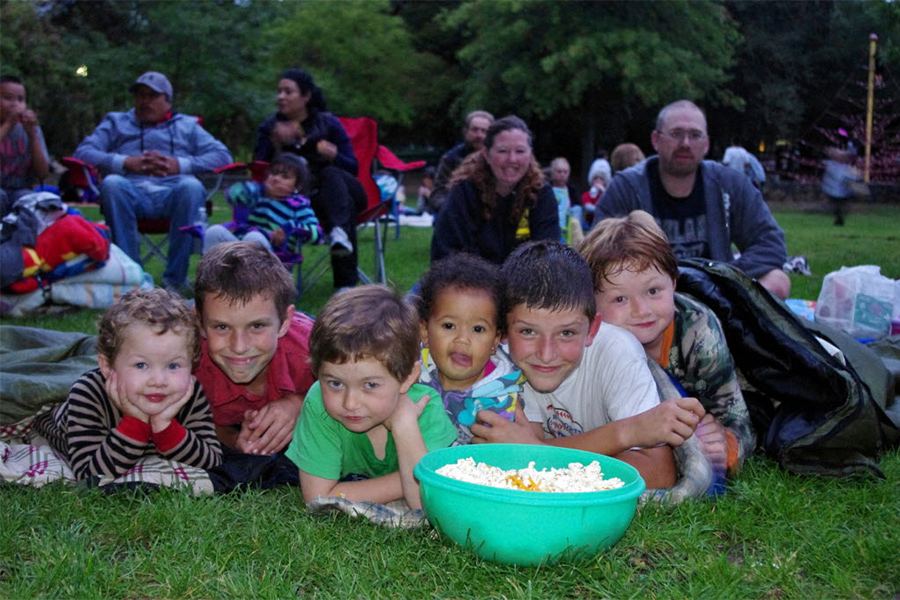 Pack a blanket and bring the whole family to enjoy a movie under the stars at a location near you! We've got movies in the park, like Santa Rosa's Howarth Park pictured, and drive-in movies too!
Find other Sonoma County events here. And don't forget to sign up for our weekly updates so you never miss out on the fun!
Multiple locations; FREE.
June 16, 8:45pm: Dazed and Confused – Citrus Fair Fairgrounds
July 1, 8:50 pm: Independence Day – Healdsburg Community Center
August 11, 8:25pm: The Goonies – Citrus Fair Fairgrounds
September 2, 8:00pm: The Princess Bride – Healdsburg Community Center
September 9, 7:30pm: Grease – Cloverdale Airport
October 28, 6:30pm: Beetlejuice – Citrus Fair Fairgrounds
Cotati
Movies in La Plaza Park. FREE.
June 3, August 2, September 23.
Petaluma
Movies in the Park in Lucchesi Park. FREE.
Various Fridays Starting June 17th
June 17, 8:30pm: Moana
July 15, 8:30pm: The Little Rascals
August 19, 8pm: A Goofy Movie
September 16, 7pm: Forrest Gump
October 21, 7pm: Hocus Pocus
Rohnert Park
Movies at the Green; $5; 12 and under FREE
Weill Hall + Lawn at Sonoma State University
Sat, July 9, 5pm. – Encanto
Sat, July 23, 5pm & 7pm: Sing and Sing 2
Sat, Aug 27, 5pm: The Mighty Ducks
Sat, Sept 10, 5pm & 7pm: Shang-Chi and the Legend of the Ten Rings; Spider-Man: No Way Home
Santa Rosa
Summer on the Square Movie Nights (FREE)
Downtown Santa Rosa
First Thursdays Starting at 6pm
June 2: Love, Simon
July 7: Encanto
July 14: Luca
August 4: Double Feature! The Goonies & Ghostbusters (8pm)
September 1: Back To The Future
Movies in Howarth Park.
Starting in August! FREE.
Family Movies on the Green Series. FREE.
Tuesdays (All movies begin 15 minutes after sunset)
June 7 – August 9 (no movie July 5)
June 7: Encanto
June 14: Sing 2
June 21: Luca
June 28: Ratatouille
July 12: Moana
July 19: Honey, I Shrunk the Kids
July 26: Hook
August 2: Zootopia
August 9: The Goonies
Windsor
Family Movies on the Green Series. FREE.
Tuesdays (All movies begin 15 minutes after sunset)
June 7 – August 9 (no movie July 5)
June 7: Encanto
June 14: Sing 2
June 21: Luca
June 28: Ratatouille
July 12: Moana
July 19: Honey, I Shrunk the Kids
July 26: Hook
August 2: Zootopia
August 9: The Goonies