Farmers Markets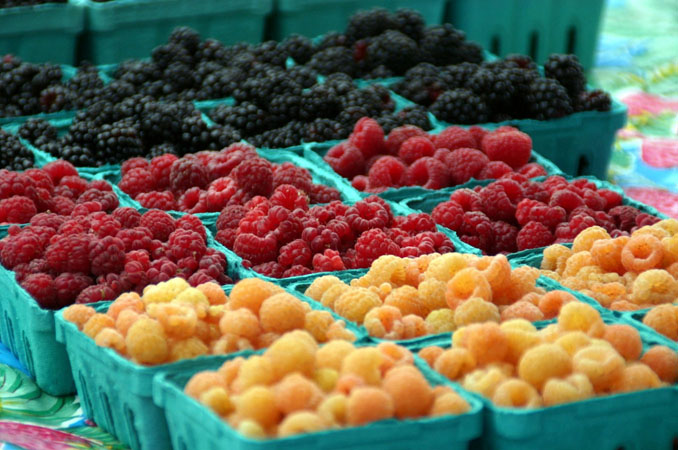 During this time of dealing with COVID-19 the state and county have deemed farmers' markets providers of "essential needs", as they are a relatively low-risk environment for shopping for fruits, vegetables and other fresh, locally produced goods.
Please wear a facial covering.
While our vendors love to see you, it's best to "get in and get out".
Only 1 person or couple should shop at a vendor's booth at one time.
Observe 6′ (about ten zucchinis) between shoppers while in line, even in the aisles.
We recommend one family member shops and others stay home.
Please do not touch or sample –Ask our vendors to bag what you want to buy.
Restrooms are for vendors only, except for emergencies.
Please use our wash/sanitizing stations.
If you're not feeling well, please stay home.
*Year-round markets
Bodega Bay Community Farmers Market
Sundays (Memorial Day-October): 10am-2pm., 2255 Highway 1, Bodega Bay.
Boyes Hot Springs Community Farmers' Market
Sundays * 9am to 1pm, May 17 through November 22.
Boyes Blvd at Hwy 12 next to the Post Office, Boyes Hot Springs.
Cloverdale Certified Farmers' Market 
Tuesdays, 3-6pm, April-November. Beginning May 12th, you can sign up to receive farm boxes which include offerings from most of our regular vendors! We offer delivery in Cloverdale or pick up at the market lot.
225 N. Cloverdale Blvd., Cloverdale.
Cotati Community Farmers Market
Thursdays 4:30-7:30pm, June-August.
La Plaza Park, Old Redwood Hwy & W Sierra Ave, Cotati.
Forestville Farmers' Market
Tuesdays: 4-7pm, June – September.
6990 Front Street, Forestville.
Healdsburg Farmers' Markets
Saturdays: 8:30am-noon, mid-April – November. West Plaza.
Tuesdays: 9am-1pm, June – September. Downtown Healdsburg Plaza.
Kenwood Community Farmers Market
Sunday 11a – 3pm, June 5th – September 18th
St. Patricks Church, 9000 Sonoma Hwy, Hwy 12, Kenwood.
*Oakmont Certified Farmers' Market
Saturdays, 9am-12pm
Oakmont Drive & White Oak Drive, Santa Rosa
Occidental Community Farmers' Market
Fridays, 4pm-dusk, June 5-October. Located at the south end of downtown Occidental.
* Petaluma East-Side Certified Farmers Market
Tuesdays 10am to 1:30pm. Year Round | Rain or Shine
320 N McDowell Blvd. Petaluma.
Petaluma Theatre District
Thursdays 4:30-8pm, June 4-August 27
140 2nd St #112, Petaluma.
Petaluma Walnut Park Farmers Market
Saturdays 2-5pm, May 9 – Nov 22
Walnut Park 4th St & D St, Petaluma
Rohnert Park Community Farmers Market & Party on the Plaza
Fridays 5-8pm, June – August
6250 Lynne Conde Way, Rohnert Park.
Russian River Farmers Market
Thursdays (May-September): 3-7 p.m., the Plaza, Guerneville
* Santa Rosa Community Certified Farmers Market
Wednesdays 9am – 1pm; Saturdays 9am – 1pm; Year Round | Rain or Shine
Farmers Lane Plaza 1501 Farmers Lane, Santa Rosa.
* Santa Rosa Community Farmer Market at the Veterans Building
has temporarily moved to Farmers Lane Plaza – See above.
* Santa Rosa Original Certified Farmers Market
Wednesday & Saturday: 8:30am to 1pm.
Luther Burbank Center for the Arts
50 Mark West Springs Road, Santa Rosa.
Santa Rosa Wednesday Night Market  Canceled for 2020
Wed May -August, 5-8:30pm.
Courthouse Square, Downtown Santa Rosa.
* Sebastopol Certified Farmers Market
Sundays, 10am – 1:30pm, Year-Round
Sebastopol Plaza on Weeks Way, downtown Sebastopol.
Sonoma's Tuesday Night Market
3-6pm, May-August.
Farmer and Agricultural Product Only Market at the Sonoma Veterans Memorial Building East Parking Lot,
126 1st St West, Sonoma
* Sonoma Valley Certified Farmer Market
Fridays, 9am-12:30pm, 241 First St. W., Sonoma.
Windsor Certified Farmers Market
Sundays, 10-1, April-December and Thursdays, 5-8pm, May-September.
701 McClelland Dr., Windsor.