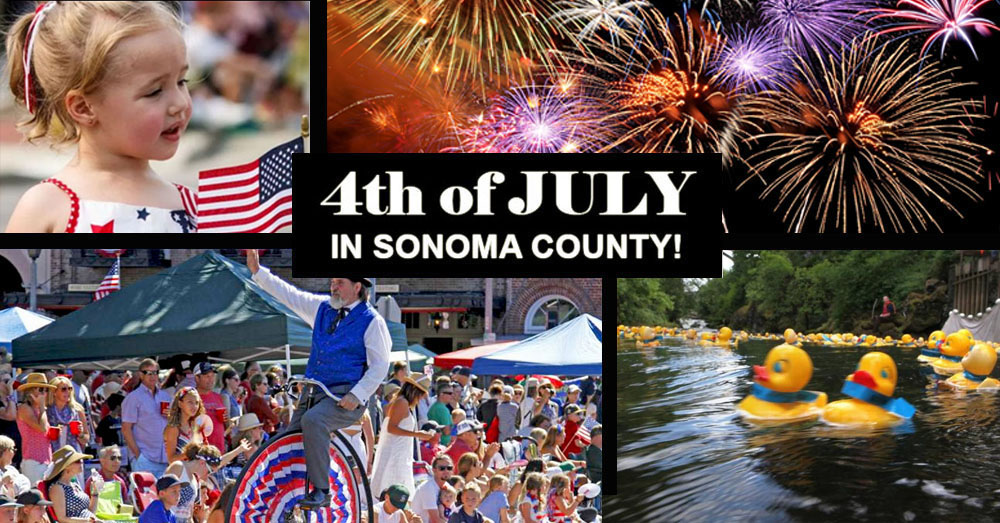 Family fun and fireworks!
Celebrate Independence Day 2022 Sonoma County-Style!
.
Celebrate with parades, festivals, music, food, a duck dash, fireworks, and more!
Find other Sonoma County events here. And don't forget to sign up for our weekly update so you never miss out on the fun!
CLOVERDALE
Monday, July 4, 9am-3pm
Happy Birthday Cloverdale, USA- 4th of July Faire!
Live Music, food, drinks, pie eating contest, carnival games & more! Parade in Downtown Cloverdale begins at 9 a.m. Then more Faire festivities to 3pm!
Cloverdale Citrus Fairgrounds.


FORESTVILLE
Saturday, July 2, 12-4 pm
4th of July BBQ
How about a holiday weekend with a BBQ in the park!? Have lunch, listen to music, and enjoy the celebration Under the Oaks!
Front Street, Forestville

HEALDSBURG
Sunday, July 3, 11am-3pm
Red, White & BBQ featuring Hootenanny
Kick off your 4th of July celebration with a delicious Kinsmoke BBQ and live music by Hootenanny, playing classic rock, pop, and country.
Rodney Strong Vineyards
Monday, July 4, 9pm/Dusk
Healdsburg 4th of July Fireworks
Healdsburg's Famous Festive Fireworks Finale is one of the most amazing and exciting you'll ever see! Truly an exceptional array of fireworks, lighting, and effects that seem to go on for hours.
Healdsburg High School
Monday, July 4, 10am-1pm
Annual 4th of July Kids' Parade & Duck Dash
Youngsters are encouraged to dress in costume; arrive on bikes, tricycles, and wagons adorned with red, white, and blue decorations. There will be live music and activities for all including; games, races, and music from Court 'n' Disaster, and the Healdsburg Community Band. Enjoy free lemonade, hot dogs, snow cones, popcorn, and street corn!
Healdsburg Plaza

KENWOOD
Monday, July 4, 7am
Kenwood July Fourth Parade & Rotary Shindig
Pancake breakfast at 7, then, head on over to Plaza Park for live music, food, and fun throughout the day! All sponsored by the Rotary Club of Glen Ellen-Kenwood. There will also be a hot dog stand, ice cream and a parade at 10:30!
Plaza Park
Monday, July 4, 7:30am
3K & 10K Wine Country Races
The oldest running 10K footrace in California!


Mon, July 4, 7-11:pm
4th of July Fireworks Hike
Join Team Sugarloaf on an evening hike to Bald Mountain to view the fireworks displays.
Kenwood $80.00

PENNGROVE
Sunday, July 3, 11am-4pm
46th Annual 4th of July Penngrove Parade!
"The Biggest Little Parade in Northern California"! Stay after the parade for BBQ, kids' games, and music by Train Wreck Junction in Penngrove Park!
Main Street Downtown Penngrove

PETALUMA
Monday, July 4, 9:30pm
Petaluma 4th of July Laser Light Show
Enjoy the show in the sky over the city! The light show will be projected from the downtown area to Sonoma Mountain. Tune in to radio 103.3 for choreographed music to accompany the show.


Monday, July 4, 8:30pm
4th of July Celebration
This event has been canceled. Information here.

ROHNERT PARK
Monday, Jul 4, 2022, 4:30-7:30pm
4th of July Fireworks Spectacular
The biggest fireworks display in Sonoma County returns with a bang! Kids Zone begins at 4:30pm., complete with carnival games, bounce houses, and face painting plus food, music by Santa Rosa Symphony & Transcendence Theatre Company, and more!
Green Music Center, Weill Hall + Lawn
Monday, Jul 4, 2022, 12-4pm
Rohnert Park Jubilee!
Honoring Yesterday; Celebrating Today! Lots of Food, Live DJ, Cornhole Tournament, Kids Fun Zone, Pie Baking Contest, music by Wonder Bread 5 and MORE! This 4th of July event promises fun for everyone!
Rohnert Park Community Services

SEBASTOPOL
Sunday, July 3, 6:15-10pm
49th Annual 3rd of July Fireworks & Music Extravaganza!
Numerous generous sponsors, volunteers, the Sebastopol Fire and Police Departments and Analy High School make this event possible. Food and Drinks, LIVE Music, Raffle Drawing, Flag Ceremony, Fireworks BLAST OFF approximately 9:40!
Analy High School Football Field

SONOMA
Monday, July 4, 10am-5pm
Sonoma's Hometown 4th of July Parade, Celebration and Fireworks Show
Bringing the community together! The Parade begins at 10 am winding its way around the town's historic Plaza. After the parade, enjoy an old-fashioned festival with food, drink and game booths! Stay for the fireworks at dusk!
Sonoma Historic Plaza

WINDSOR
Sunday, July 3, 9:30pm
2022 Independence Day Fireworks Display
Free Viewing Opportunity for Independence Day Fireworks Display! This year will be a fireworks display only, so pack your picnic, bring your chairs and blankets and come out to enjoy the fireworks light up the night sky!
Keiser Park