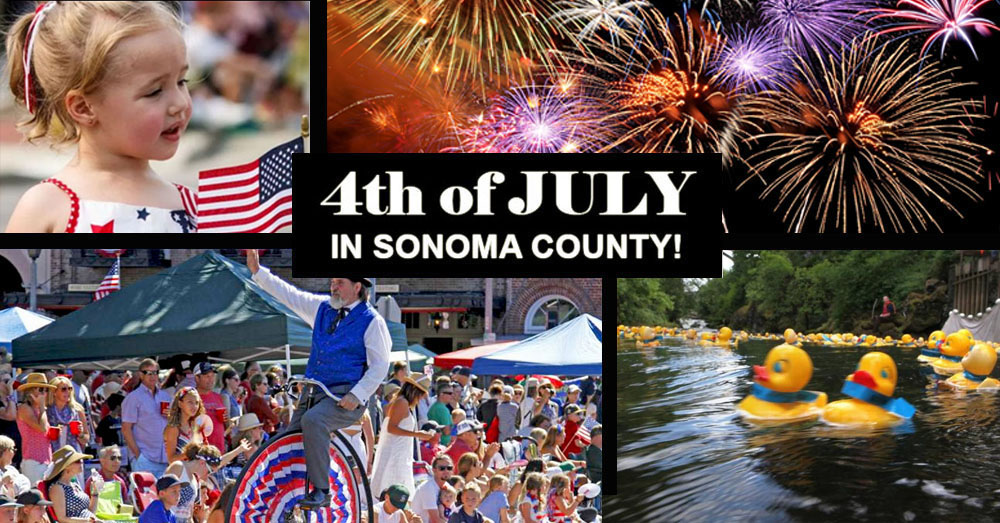 Family fun and fireworks!
Celebrate Independence Day 2023 Sonoma County-Style!
.
Celebrate with parades, festivals, music, food, a duck dash, fireworks, and more!
Find other Sonoma County events here. And don't forget to sign up for our weekly update so you never miss out on the fun!
CLOVERDALE
Tuesday, July 4, 9am-3pm
Cloverdale 4th of July Faire and Parade
The entire community is invited to the 2nd annual downtown parade and faire celebrating America's birthday on Tuesday, July 4th. The downtown parade starts at 9 a.m. and then festivities move to Citrus Fair Dr. for music, food, family games and much more. At the conclusion of the event, the Citrus fair will offer a family barbecue.
Cloverdale Citrus Fairgrounds.

FORESTVILLE
Saturday, July 1, 12-4pm
Forestville 4th of July BBQ
How about a holiday weekend with a BBQ in the park!? Have lunch, listen to music, and enjoy the celebration Under the Oaks!
Front Street, Forestville.

HEALDSBURG
Tuesday, July 4, 9pm/Dusk
Healdsburg 4th of July Fireworks
Healdsburg's 4th of July Fireworks celebration is one of the most amazing and exciting you'll ever see! Truly an exceptional array of fireworks, lighting, and effects that seems to go on for hours! Every year, just when you think they've fired-off the Grand Finale, the explosive excitement just keeps on rolling!
Healdsburg High School
Tuesday, July 4, 10am-1pm
Annual 4th of July Kids' Parade & Duck Dash
Youngsters are encouraged to dress in costume; arrive on bikes, tricycles, and wagons adorned with red, white, and blue decorations. There will be live music and activities for all including; games, races, face painting, and special guest appearances from Uncle Sam, and live bands!
Healdsburg's Fountain Square Plaza

Tuesday, July 4, 5-8:45pm
4th of July Baseball and Fireworks in Healdsburg
Celebrate 4th of July in the heart of Healdsburg as the Prune Packers play baseball followed by fireworks! Fun for all ages!
Recreation Park, Healdsburg

KENWOOD
Tuesday July 4, 8am
Kenwood July 4th Parade
Pancake breakfast at 8, then head on over to Plaza Park for live music, food, and fun throughout the day! The parade starts at 10, celebrating "Happy Birthday, America!"
Plaza Park
Tuesday, July 4, 7:30am
3K & 10K Wine Country Races
The oldest running 10K footrace in California! In addition, the event also features a fast, out-and-back 3K race.

Tuesday, July 4, 7-11pm
4th of July Fireworks Hike
Join Team Sugarloaf on an evening hike to Bald Mountain to view the fireworks displays. Enjoy the beautiful sights that span the Bay Area– from Windsor in the north, Berkeley and Oakland in the east, San Francisco to the south, with possible views into the South Bay.
Kenwood $65.00 (Proceeds support Sonoma Ecology Center's operations of Sugarloaf Ridge State Park)

PENNGROVE
Sunday, July 2, 11am-4pm
47th Annual 4th of July Penngrove Parade!
"The Biggest Little Parade in Northern California"! Stay after the parade for BBQ, kids' games, and music by Train Wreck Junction in Penngrove Park!
Main Street Downtown Penngrove

PETALUMA
Tuesday July 4, around 9:30pm
Fireworks Over Petaluma
The high-elevation format of the show allows for easy viewing from parks and neighborhoods all over town.

Tuesday, July 4, 11am-4pm
Stars and Stripes, Dogs and Bikes
Join us for family-friendly fun to kick off the 4th of July holiday! This event will feature: The Petaluma East-Side Farmers' Market, a bike parade at 12:00pm, bike decorating station, FREE bike valet provided by Bike Petaluma, a craft station, kids activities, a dog costume contest, and MORE!
Lucchesi Park

ROHNERT PARK
Tuesday, July 4, 4:30-7:30pm
4th of July Fireworks Spectacular
The biggest fireworks display in Sonoma County returns with a bang! Kids Zone begins at 4:30pm., complete with carnival games, bounce houses, and face painting plus food, music by Santa Rosa Symphony & Transcendence Theatre Company, and more!
Green Music Center, Weill Hall + Lawn
Tuesday, July 4, 12-4pm
Rohnert Park Jubilee!
Honoring Yesterday; Celebrating Today! Lots of food, Live music, Cornhole Tournament, Kids Fun Zone, Pie Baking Contest, and MORE! Deck out your wagon, bikes, strollers, or self in 4th of July decor. This 4th of July event promises fun for everyone!
Rohnert Park Community Services
SANTA ROSA
Sat, July 1, 9am-2pm
2nd Annual All-American Car Show Fundraiser
Family friendly event feat. pancake breakfast, food vendors, beer & wine, music, and more benefitting local veterans programs.
Santa Rosa.

SEBASTOPOL
Monday, July 3, 6:15-10pm
50th Annual 3rd of July Fireworks & Music Extravaganza!
Numerous generous sponsors, volunteers, the Sebastopol Fire and Police Departments and Analy High School make this event possible. Food and Drinks, LIVE Music, Raffle Drawing, Flag Ceremony, Fireworks BLAST OFF approximately 9:40!
Analy High School Football Field

SONOMA
Tuesday July 4, 10am-5pm
Sonoma's Hometown 4th of July Parade, Celebration and Fireworks Show
Bringing the community together! The Parade begins at 10 am winding its way around the town's historic Plaza. After the parade, enjoy an old-fashioned festival with food, drink and game booths! Stay for the fireworks at dusk!
Sonoma Historic Plaza

WINDSOR
Monday, July 3, 9:30pm
Windsor Kaboom: July 3rd Fireworks
Free Viewing Opportunity for Independence Day Fireworks Display! This year will be a fireworks display only, so pack your picnic, bring your chairs and blankets and come out to enjoy the fireworks light up the night sky!
Keiser Park