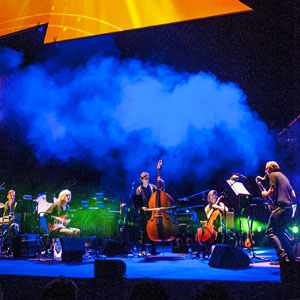 Sun, January 29, 2023, 7:00 pm - 10:00 pm
Bang on a Can All-Stars: Can Dance – live music, and dance on film! The Bang on a Can All-Stars' newest show is a seamless integration of cutting edge music, revolutionary dance, and film. Nine extraordinary choreographers have been commissioned to create dance/films to music written for and performed live by the Bang on a Can All-Stars.
– Josue Collado Fregoso: Joie de Vivre with Marissa, a film by Pioneer Winter
– Michael Gordon: July (selections) for solo piano with film by Brian Brooks
– Hildur Guðnadóttir: Illimani with Fear of Dog, a film by Andros Zins-Browne
– David Lang: interstate with film by Annie-B Parson
– Qasim Naqvi: Featureless with film by Kyle Marshall
– Angélica Negrón: Turistas with Kookik, a film by Keerati Jinakunwiphat
– Henry Threadgill: With or Without Card with film by Rena Butle
– Trevor Weston: Dig it with The Burglar, a film by Jerron Herman
– Julia Wolfe: Into the clouds with film by Andrea Miller
Bang on a Can All-Stars are recognized worldwide for their dynamic live performances and recordings of today's most innovative music. Freely crossing the boundaries between classical, jazz, rock, world, and experimental music, this six-member amplified ensemble has consistently forged a distinct, category-defying identity, taking music into uncharted territories. Performing each year throughout the U.S. and internationally, the All-Stars have shattered the definition of what concert music is today.
Heralded as "the country's most important vehicle for contemporary music" by the San Francisco Chronicle the Bang on a Can All-Stars have amassed a massive repertoire of works written specifically for the sextet's distinctive instrumentation and style of performance, the All-Stars have become a genre in their own right.
View on Website Add to Google Calendar
Green Music Center, Weill Hall, Sonoma State University
1801 East Cotati Avenue - Rohnert Park

Price: $25.00