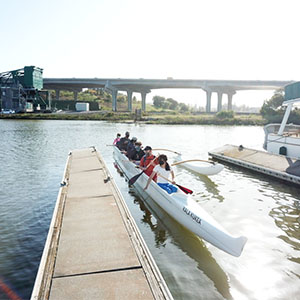 Sat, March 18, 2023, 12:00 pm - 1:00 pm
Kai Wai Northbay promotes the culture and active lifestyle of the Polynesian sport of outrigger canoeing. With keiki (youth) and adult programs, they compete all over California, but practice right here in Petaluma! Come find out more and try out the boats! Everyone is welcome, no experience necessary.
NOTE: This is a public service program offered by The Floathouse Petaluma, a (people-powered) boat rental center based right in Petaluma's downtown turning basin. The Floathouse is situated on floating docks on the river. Enter via the stairs and ramp between Baskin Robbins and TAPS in River Plaza, 50 E. Washington Street, Petaluma.
View on Website Add to Google Calendar
The Floathouse Petaluma
50 East Washington Street - Petaluma