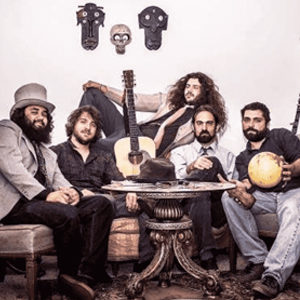 Fri, September 23, 2022, 7:00 pm - 9:30 pm
DUSTY GREEN BONES BAND:
FORMED IN JANUARY 2014, DUSTY GREEN BONES BAND IS A FIVE PIECE ELECTRIC NEWGRASS GROUP BASED OUT OF CALIFORNIA'S BAY AREA. LOOKING TO FORM A "JAMGRASS" STYLE BAND, THIS ROWDY BUNCH OF MUSICIANS MET IN THE HEART OF SAN FRANCISCO. AFTER TWO EP'S (DGBB SELF TITLED/MOONLIGHT ON THE MOUNTAIN VOL.1) AND A FULL LENGTH ALBUM (CONSTANT GARDNER) THE GROUP LINEUP HAS CHANGED AND NOW CONSISTS OF: FORREST ALLEN (ACOUSTIC/ELECTRIC MANDOLIN, VOCALS), SCOTTY BROWN (ELECTRIC/STAND UP BASS,VOCALS), ISAAC CANTOR (ACOUSTIC/ELECTRIC BANJO,VOCALS), MARK IGNATIUS (ACOUSTIC/ELECTRIC GUITAR,VOCALS), JON RYAN (DRUMS, PERCUSSION, VOCALS). BY MIXING MUSICAL STYLES FROM A WIDE VARIETY OF GENRES WITH THE HIGH ENERGY OF HARD-DRIVING BLUEGRASS, THEY HAVE CREATED A PURELY ORGANIC SOUND.
View on Website Add to Google Calendar
Twin Oaks Roadhouse
5475 Old Redwood Hwy - Penngrove