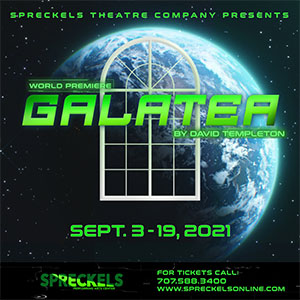 Fri, September 10, 2021, 7:30 pm
Galatea
The world premiere of David Templeton's award-winning science-fiction mystery.
Sept. 3-19, 2021
It's 2167, and high above the Earth orbits a vast transport where robot-specialist Dr. Margaret Mailer conducts sessions with 71, a member of a synthetic support crew once assigned to the deep space research vessel, Galatea. A hundred years ago, the ship disappeared with more than a thousand human passengers on board. Now rescued from an ancient escape shuttle after years of floating in deep cryogenic sleep, 71 engages with Dr. Mailer in a series of therapy sessions and exercises designed to probe her memory and bring her "human" qualities up-to-date.
As she learns what it means to shake hands, make friends, tell jokes and laugh, it becomes clear that 71 is guarding more than a few secrets. Meanwhile, Mailer seeks the answers to a number of questions with vital, world-altering import including what, exactly, happened on the Galatea?
Directed by Marty Pistone
World Premiere
Considerations: Slow-moving images, some adult language
Thursday, Friday & Saturday 7:30pm
Sun. matinee at 2:00pm
To purchase tickets: Call 707-588-3400
Or online www.spreckelsonline.com
Box Office Wednesday – Saturday 12 – 5pm or one hour before performances.
Spreckels Performing Arts Center
5409 Snyder Lane
Rohnert Park, CA 94928
View on Website Add to Google Calendar
Spreckels Performing Arts Center
5409 Snyder Lane - Rohnert Park