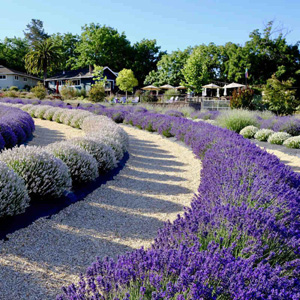 Sat, June 25, 2022, 10:00 am - 4:00 pm
Lavender bloom season is here! Lavender Daze (our bloom season) happen on most weekend days from May 21 through July 10, 10 AM to 4 PM. Tickets are required for farm entry, $20 per person over 12, children 12 and under free. We'll have live music on all of our open-farm days, from jazz to bluegrass, acoustic vocals to rock, blues, and ragtime. Music from noon to 3 PM. Schedule below. Come on out and enjoy the relaxing fragrance of lavender, a peaceful atmosphere, and wonderful live music. Dino's Greek Food Truck will be on site on May 22, May 29, June 5, July 3, July 9 and July 10. Otherwise, bring a picnic to enjoy!
Got questions? We've got answers! Check out the Lavender Daze FAQs.
Music Schedule:
May 21, Saturday: Classic bluegrass with Riley Hill and Brand New Still
May 22, Sunday: Piano and vocals, Pamela Joyce and Bob McBain Duo
May 28, Saturday: Country rock Americana and jazz, New Skye Band
May 29, Sunday: John Kalleen Jazz Group
June 4, Saturday: Mike Z Solo Guitar and Vocals
June 5, Sunday: Classic bluegrass with Riley Hill and Brand New Still
June 11, Saturday: Parlor Tricks Ragtime Band
June 12, Sunday: Bluegrass with Muleskinner Stomp
June 19, Sunday: Father's Day. John Kalleen Jazz Group
June 25, Saturday: Mike Z Solo Guitar and Vocals
June 26, Sunday: Piano and vocals, Pamela Joyce and Bob McBain Duo
July 2, Saturday: Soul, swing, R&B, Jazz with Spike Sikes and the Awesome Hotcakes
July 3, Sunday: Amazing vocal harmonies, The Silver Starlings
July 9, Saturday: Jazz with Chris Amberger and the Hot Dogs, featuring The Young Brats! Dylan Hayes-Keys & Xavier Lecouturier-Drums
July 10, Sunday: John Kalleen Jazz Group
View on Website Add to Google Calendar
Bees N Blooms
3883 Petaluma Hill Road - Santa Rosa

Price: $20.00