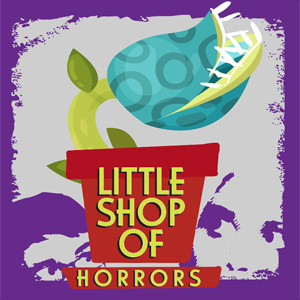 Fri, January 27, 2023, 7:30 pm - 9:45 pm
Little Shop of Horrors is a delectably unusual story of Seymour, a meek and dejected assistant at a floral shop. One day he happens upon a strange plant, which he affectionately names after his crush, Audrey.
Little does he know this peculiar plant will develop a soulful R&B voice, a potty mouth and an unquenchable thirst for human blood.
"This musical has its own sly message for an era in which celebrity is regarded as a constitutional right: Embrace fame at your peril. It's a killer." —New York Times
As Audrey II grows bigger and meaner, the carnivorous plant promises limitless fame and fortune to Seymour, as long as he continues providing a fresh supply of human blood.  Just when it's too late, Seymour discovers Audrey II's extra-terrestrial origins and his true drive for world-domination.
Little Shop of Horrors took off-Broadway by storm in the 1980s when the trend-setting creative team took a B-grade science fiction film and transformed it into one of the most successful little musicals of the last 40 years.
View on Website Add to Google Calendar
6th Street Playhouse
52 W. 6th Street - Santa Rosa