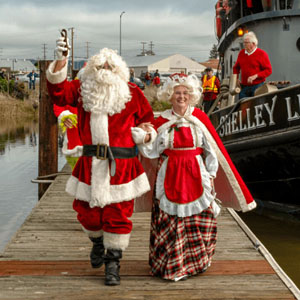 Sat, November 25, 2023, 11:30 am - 1:30 pm
When Santa arrives in Petaluma, he leaves his sleigh at home.  Instead, he and Mrs. Claus make a uniquely Petaluma arrival – they sail up the Petaluma River on a Lind Marine tugboat and dock at River Plaza Shopping Center on E. Washington to the cheers of excited children!
The Christmas couple will arrive around noon and will be available for family photos.  Be sure to bring your Christmas wish list!
Don't' let the fun stop there!  Keep the festive mood flowing by making the short walk to historic downtown Petaluma for Shop Small special offers and activities.
View on Website Add to Google Calendar
River Plaza, Petaluma
50 E Washington St, Petaluma - Petaluma