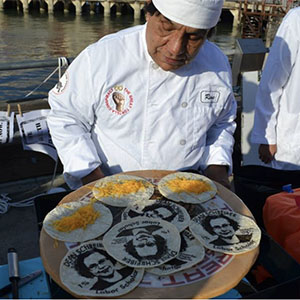 Thu, July 22, 2021, 5:30 pm - 7:30 pm
The World's Most Dangerous Tortilla Art Collective
Free Food. Free admission. Donations welcome at the door.
The Great Tortilla Conspiracy is a political performance group that produces satirical edible art screen-printed with chocolate on tortillas, after the style of miraculous apparitions on various foodstuffs. Artist Joe Sances creator of "Or, The Whale", which is currently on exhibit, is one of their members.
Enjoy the aesthetic (and culinary) sensation that is the Great Tortilla Conspiracy, which embodies the principles of free food for all and digestible satire in the form of tasty and thought-provoking quesadillas.
Music by Doctor Loco & Francisco Herrera
Free Tortillas, Both Edible And Archival
View on Website Add to Google Calendar
Sebastopol Center for the Arts
282 S High St. - Sebastopol