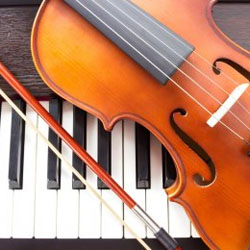 Tue, July 28, 2020, 5:00 pm - 5:30 pm
This summer we are excited to present a series of eight virtual concerts as part of pianoSonoma at Your Doorstep. Each concert will take place from 5:00pm-5:30pm and will be curated by one or two of our Artists in Residence.
In lieu of a ticket fee, we welcome donations.
Monday, July 20: Doori Na, Violin
Adolphus Hailstork Three Spirituals for String Trio (selections) with Gioia Gedicks and Frederic Renaud
Jessie Montgomery Rhapsody No. 1
Django Reinhardt Improvisation No. 2 arr. Evan Price
Astor Piazzolla Tango – Etude no. 3
Coleridge-Taylor Perkinson Louisiana Blue Strut
Tuesday, July 21: Frederic Renaud, cello
Johann Sebastian Bach Cello Suite No. 5 in C minor (selections)
Reinhold Glière 8 Pieces for Violin and Cello (selections) with Gioia Gedicks
Arvo Pärt Spiegel im Spiegel with Peter Dugan
Caroline Shaw in manus tuas
Wednesday, July 22: Christine Wu, piano
Johannes Brahms Intermezzo Op. 117, No. 1
Johannes Brahms Wie melodien zieht es mir with Kara Dugan
Robert Schumann/Franz Liszt Widmung
Franz Liszt Sonetto del Petrarca 123
Franz Schubert/Franz Liszt Auf dem Wasser zu Singen
Thursday, July 23: Michael Dahlberg, cello
Johann Sebastian Bach Cello Suite No. 1 in G Major (selections)
Ian Gottlieb Medium (selections)
Jean-Baptiste Barrière Sonata (Duet) in G Major with Nathaniel Taylor
Monday, July 27: Nathaniel Taylor, cello
Gaspar Cassadó Suite for Solo Cello (selections)
Nobody Knows de Trouble I see *In honor of Black Lives Matter
Johann Sebastian Bach Cello Suite no. 5 "Sarabande" *Tribute to victims of police brutality
Johann Sebastian Bach Cello Suite no. 6 "Allemande" *Tribute to victims of COVID-19
Tuesday, July 28: Gioia Gedicks, violin
Explorations in Improvisation
Johann Sebastian Bach Sonata no. 1 in G minor (selections)
John Harbison Songs of Solitude (selections)
Zoltán Kodály Duo in D minor for Violin and Cello (selections) with Frederic Renaud
and improvisations
Thursday, July 30: Kara and Peter Dugan
Music and Magic
Samuel Barber Hermit Songs (selections)
Clara Schumann Liebeszauber
Liza Lehmann There are Fairies at the Bottom of our Garden
Leonardo Dugan Book of Imaginary Beings (selections)
Stephen Foster Beautiful Dreamer
Stevie Wonder If it's Magic