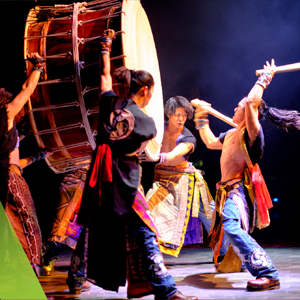 Sat, February 25, 2023, 7:30 pm - 9:00 pm
Hinotori – The Wings of Phoenix tour marks the 30th Anniversary of Yamato!
Yamato was founded by Masa Ogawa in 1993 in Nara, 'the land of Yamato" which is said to be the birthplace of Japanese culture. Presently based in Asuka Village, Nara Prefecture, Yamato travels all over the world with Japan's traditional Wadaiko drums, putting its very souls into the unusual instruments, whose sound stirs the hearts of people everywhere.
Like the strong and sturdy heartbeats of a lonely runner with a sleek and powerful body, Yamato attempts to create the energy of life, which envelops the audience and performers.  What one feels when surrounded by the sound of Wadaiko, brought out by these highly trained performers, is what the Japanese call "Tamashii", translated as soul, spirit, and psyche – the basic elements of life. It is something which is invisible and intangible but whose existence is certainly felt. The pulse, carried down from antiquity, will resonate within all the bodies gathered at any given performance.
Hinotori – The wings of Phoenix celebrates the troupe's strength and ability to rise up despite the challenges it has faced throughout its 30-year history.
View on Website Add to Google Calendar
Green Music Center, Weill Hall, Sonoma State University
1801 East Cotati Avenue - Rohnert Park

Price: $25.00